Fundraising and Events
Northern Belle Chester Day Trip
Jun 10 7:00 AM - 11:00 PM
Join us for a special fundraising day trip on board the Belmond Northern Belle, sister train to the Venice-Simplon Orient-Express on our day trip to Chester 10 June 2017.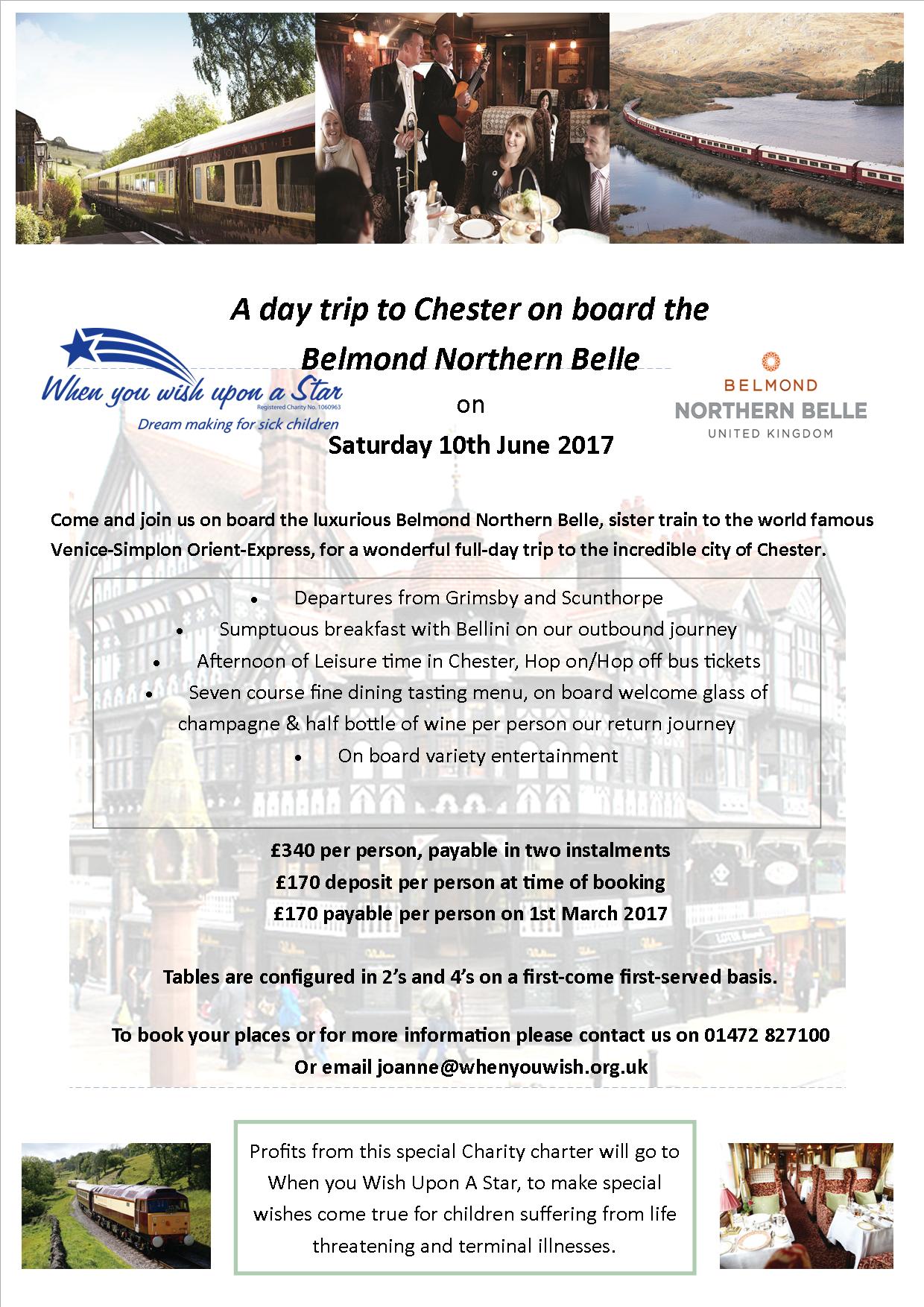 All profits will be used towards granting the wishes of children living with life threatening and terminal illnesses.
The Northern Belle will depart from Grimsby and Scunthorpe Train Stations.
You can relax and enjoy the Sumptuous Brunch and Bellini on your outbound journey as we meander through the countryside to historic Chester.
Once arriving you can enjoy an afternoon of leisure time in Chester with complimentary hop on - hop off, tourist bus tickets to see the most of the sights, as you desire.
On your return, sip on a welcome glass of Champagne along with a 7 course fine dining menu & half a bottle of wine per person, as well as a variety of entertainment.
Selection of Canapés
*****
Trio of White Fish – Smoked Halibut, Salt Cod Brandade & Pan Fried Stone Bass fillet with Basil dressing
(Green asparagus mousse with carrot and white asparagus salad, red pepper vinaigrette -V)
*****
Asparagus & Watercress Soup with Truffle Crème Fraiche
(Minted Pea Soup with Chive Crème Fraiche – V)
*****
Herb Crusted Rump & Shoulder of Lamb with mint crushed Jersey Royals, carrot and spring onion puree with rosemary sauce or
(Jersey Royal Potato, Gruyere and Truffle Tart and Caponata, Kale & Chive Beurre Blanc V)
*****
Belmond Northern Belle Great British Cheeseboard
*****
Candied Lemon Tart with Blackberry Jam and Blackcurrant Sorbet
*****
Rain Forest Alliance Coffee & Petit Fours
Menu is subject to change depending on seasonal availability
Tickets for the trip cost £340 per person (payable in 2 instalments- 50% at time of booking, 50% by 1/3/17) Tables are configured in 2's and 4's.
Dress code: Smart casual. No jeans or trainers.
To view the brochure in full, please click here
To open a booking form and reserve your place please click here
For further details:
Call - 01472 827100
Email - joanne@whenyouwish.org.uk
facebook.com/joatwish
VENUE - The Northern Belle
Chester
Permalink: http://www.whenyouwishuponastar.org.uk/chester-train.html