Fundraising and Events
Wing Walk for Charity
Jun 17 8:00 AM - 5:00 PM
What's on your bucket list? and have you ever fancied Wing Walking?  We're looking for thrill-seeking individuals to take part in our organised event to help us to make very special Wishes to come true for our brave children who live with life threatening and terminal illnesses.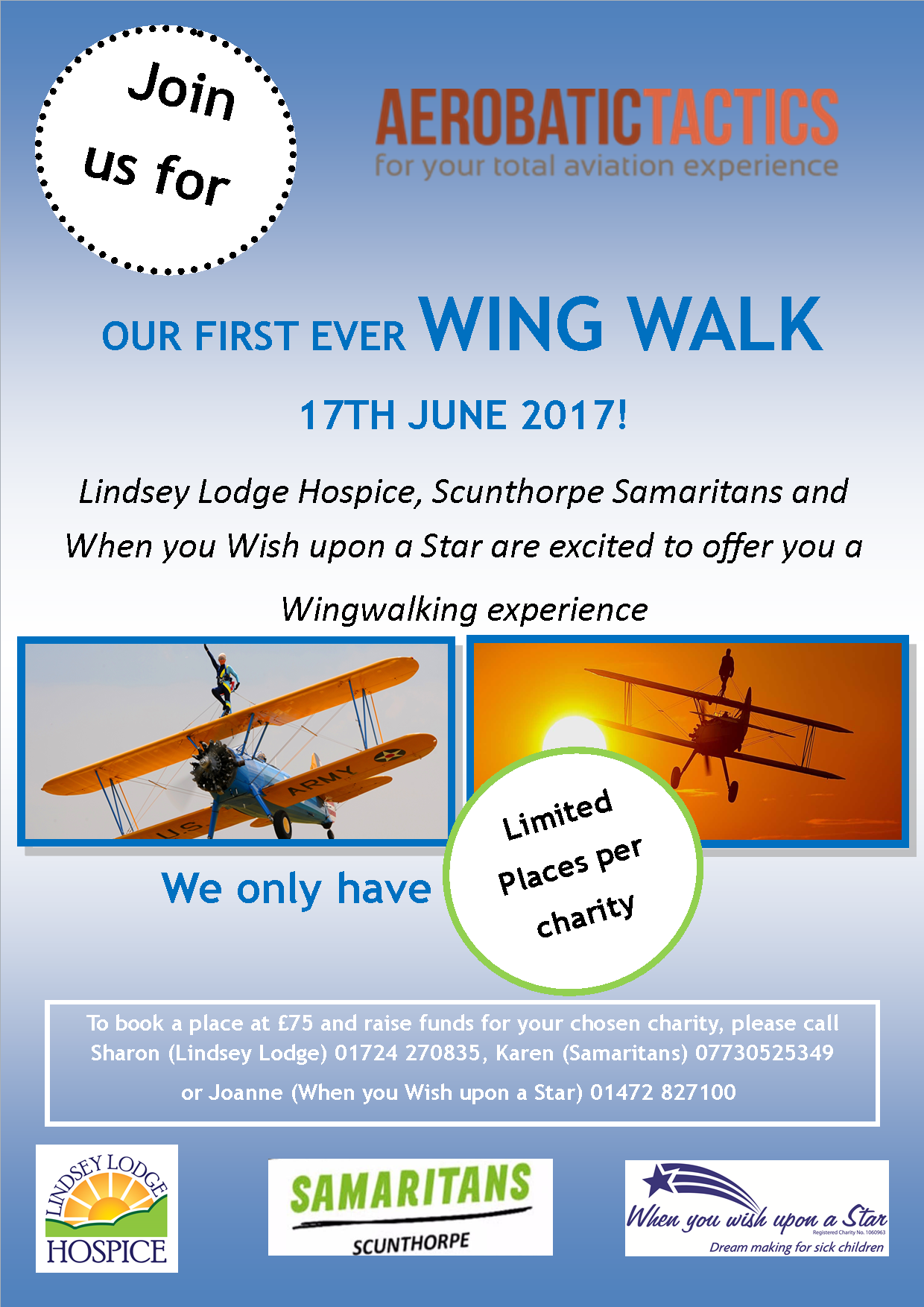 We are delighted to be working in conjunction with Scunthorpe Samaritans and Lindsey Lodge Hospice in this joint event, and each group and will be offering people the opportunity of Wing Walking for their own charity.
Aerobatic Tactics is the only company in the UK with permission from the Civil Aviation Authority to legally offer Wing Walking experience flights to the general public including Wing Walking for fundraising purposes. More information about them can be found at;
http://aerobatictactics.com/services/wingwalking

At time of writing, we have just two places left on Saturday 17 June 2017– and a limited number of places available on Sunday 18 June 2017. (Saturday 17th June is now fully booked) please see our event page for 18th June, so not to miss out.
Please note participants need to be medically fit, there is no height restriction but there is a weight restriction of 12st 2lbs fully dressed. Wing Walkers must be aged between 18-65, although daredevils above 65 may take part with doctor's consent.  Full T&Cs will be sent out so to book your place please phone 01472 827100.
All Wing Walkers must pay a £75 personal non refundable deposit and must raise a "minimum suggested donation" of a further £575 per person.
For further details and to book a place:
Call - 01472 827100
Email - joanne@whenyouwish.org.uk
Venue - Wickenby Airfield
The Control Tower, Langworth, Lincoln LN3 5AX
Permalink: http://www.whenyouwishuponastar.org.uk/wingwalk.html