Fundraising and Events
OPUS 1 LIVE IN CONCERT
Feb 18 6:30 PM - 10:00 PM
The amazing Opus 1 are performing in aid of When You Wish Upon a Star, to raise funds and grant Wishes for our courageous children. 
The Variety Concert, #LiveYourDreams will feature classical music, pop, pianists, guitar, singers, music theatre, dance, brass and a choir.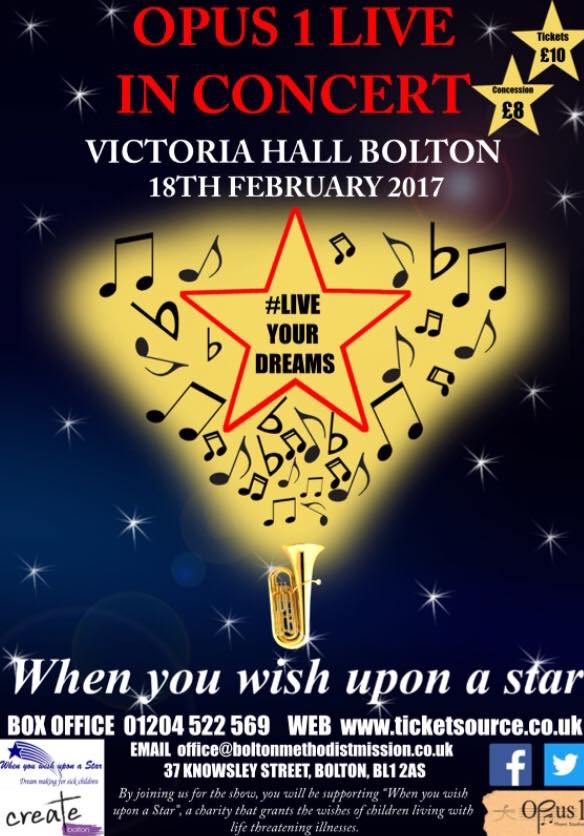 Our friend Deborah Cooper has organised this event as her daughter Sarah was the best friend of one of our Wish children.
Deborah and Sarah would like to invite everyone to come along for a fantastic musical evening.
Tickets are available from the Box Office: On 01204 522 569 or via www.ticketsource.co.uk 
Tickets  cost  - £10:00 Concessions -  £8:00
Doors open at 6:00 pm -  Concert starts at 6:30 pm
For Further information: 
Telephone - 01663 766 744
Email  -  jen.hughes@whenyouwish.org.uk
Venue: Victoria Hall
37 Knowsley Street, Bolton, BL1 1AS
Permalink: http://www.whenyouwishuponastar.org.uk/opus-1.html