29th July 2022
The West Highland Way
Get your walking boots ready for a Wish adventure this summer
Take on the West Highland Way over a 5-day challenge with 4 nights camping, 96 miles (153km) and 4,312m (14,143ft) of ascent. Walking 96 miles starting at Milngavie on the outskirts of Glasgow you will then head North with an average of approximately 20 miles per day challenge, taking in breath-taking views of Loch Lomond, Rannoch Moor and the infamous Devils Staircase before finishing at Fort William in the heart of the Highlands overlooking the UK?s highest mountain Ben Nevis.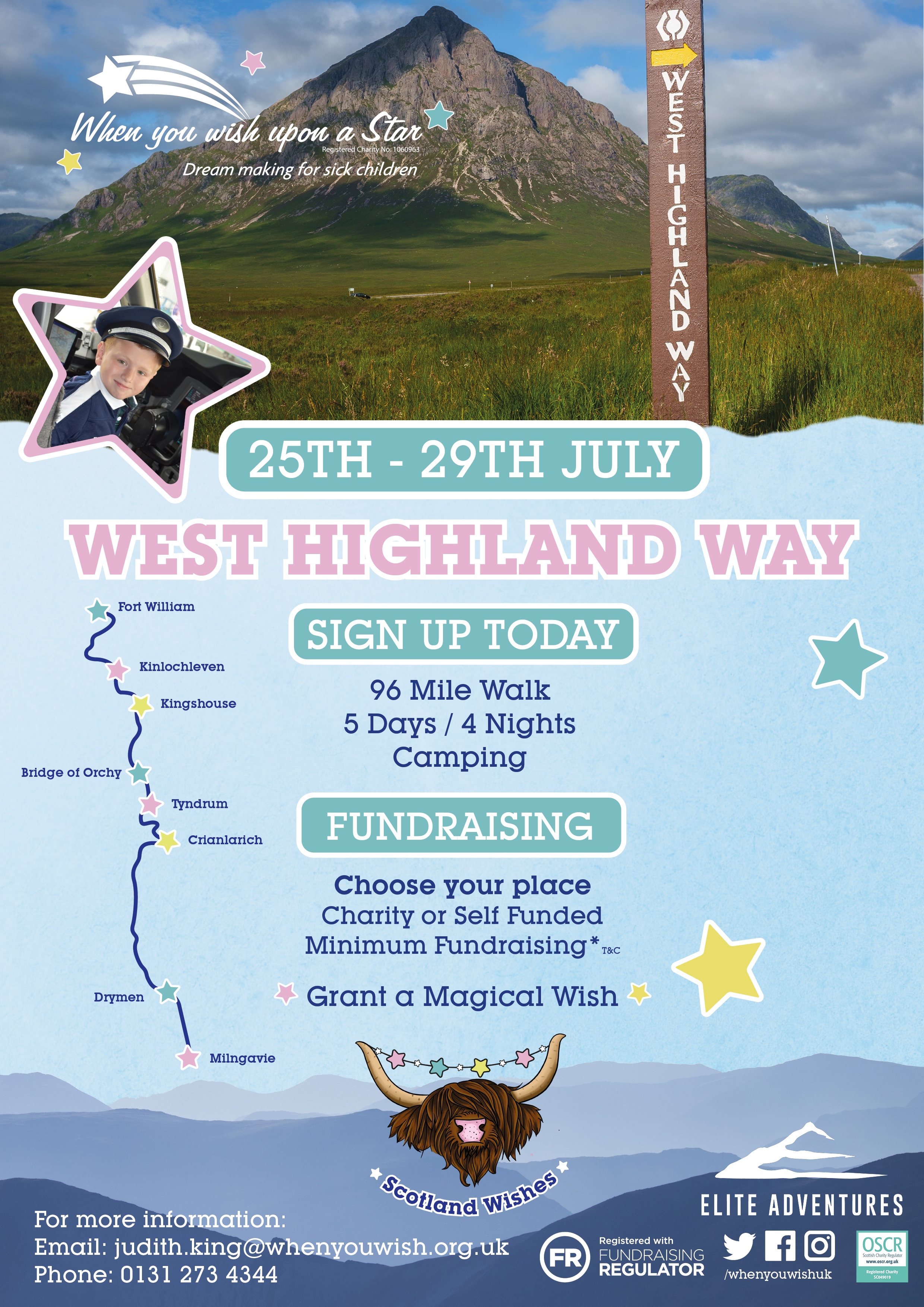 We are delighted to be working with Elite Adventures for our challenge and we are offering 2 ways you can take part to help grant magical Wishes.
Click on the links below for more information
Charity Place: Book your place with us here 👉 WestHighlandWay CharityPlace 2022
Per person: £250 (non-refundable) deposit: £50 upon sign up and remaining amount to be paid by 31.05.22
Minimum Fundraising: £1425 per person
Self-Funded Place: Book your place with Elite Adventures direct here 👉 WestHighlandWay SelfFunded 2022
https://eliteadventures.co.uk/...
Participant cost: £775 per person £250 deposit (non-refundable) per person by 31.05.22
Elite Adventures Payment Plan for remaining £525
Minimum fundraising £650 Per person
Click here for more information on the West Highland Way Challenge 👉 WestHighlandWay InfoPack 2022
*ALL fundraising: 80% to be achieved by 01.08.22, final 20% to be pledged to the charity by 30.09.22*

To book your place contact the Scotland office today on 0131 273 4344 or Email judith.king@whenyouwish.org.uk