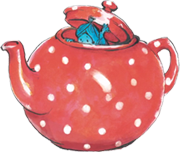 In association with Macmillan Children's Books
Say hello and listen to our lovely friend and award winning children's author, Julia Donaldson, who read her new story "The Teeny Weeny Genie" for our supporters at the Belladrum Tartan Heart Festival; a story of adventure and magical wish granting!
Please help to support our Wish granting work.

Teeny Weeny Genie © Julia Donaldson and Anna Currey 2020 - Macmillan Children's Books
Heartfelt thank you to Julia Donaldson for your wonderful support!