15th December 2010
Scotland Prestwick 2010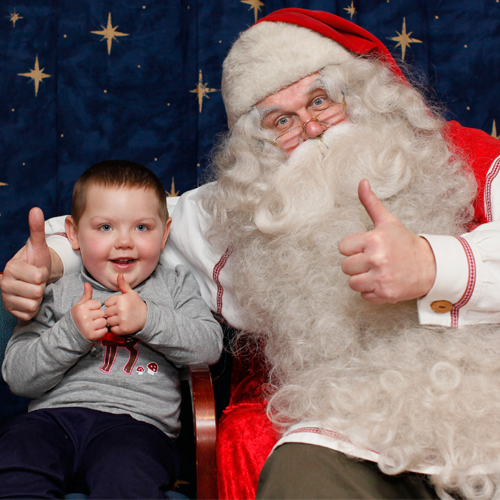 On the eve of 3rd December our fingers were crossed as the British weather had shocked us all with layers of snow and temperatures plummeting way below Zero.

The roads were treacherous and driving was hazardous, however by some miracle the children started to arrive for their special trip of a lifetime to meet Father Christmas in Lapland.
Some of the children enjoyed a party at the Troon Hotel before making their way to bed, to get a good night's sleep for the day ahead. By 5am on the 3rd December, Prestwick Airport was filled with fun and laughter from all the excited children as they waited to board the Santa Express plane. On board the Monarch Crew kept everyone entertained with carol singing, jokes and fantastic fancy dress.
The children were greeted at Rovaniemi airport by elves, wood pixies, fairies and woodland animals. As they travelled to the enchanted forest, Santa's helpers told stories of old and sang traditional Lap carols.
The forest's entrance was glittering with candles leading the children to the Reindeer Sleighs, Huskie Rides, Snow Mobiles and lots more. After two hours playing in the perfect snow, a firework display brightened the skies and waved the children on their way to meet the one and only Santa. After a festive meal at the restaurant, their eager faces awaited as Rudolph brought Santa to meet them and it was an amazing experience seeing all those smiling faces and sparking eyes receiving a gift from Santa.
After all the excitement, the children were taken across the Artic Circle to visit Santa's Village. At the village they played on the ice slide, visited souvenir shops and most importantly went to Santa's Post Office, where the children could post their Christmas Lists and watch as the elves sorted the daily arrival of all the letters from all around the world.
This was a truly magnificent day which had some extremely emotional moments and made some very special memories.