24th December 2012
Nottingham East Midlands 2012
Up to 80 excited children and their parents arrive at East Midlands Airport at 4am to check in and start their journey on a truly magical trip to meet Father Christmas in Lapland.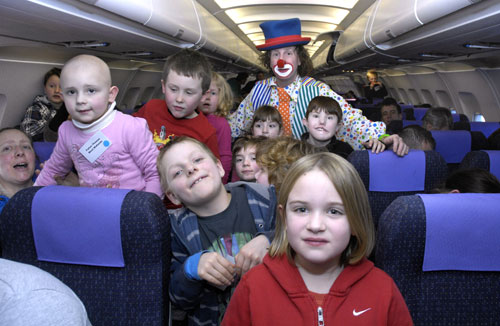 We were greeted on board by staff and crew from Monarch and even had our very own Chrismoos who entertained the children throughout our flight to Lapland.
As soon as the flight left the runway the fun began on board with Chrismoos entertaining the children with singing competitions and inviting them to tell their favorite Christmas jokes to everyone on the flight.
The Magic Forest
On arrival at Lapland we were greeted by our hosts in traditional costume waiting to ferry the children to the Magic Forest – on arrival the children could not wait to vacate the coaches quick enough, not wanting to waste a single moment to enjoy the fun that was ahead of them in the magic forest.
Waiting for them was Rudolph and his reindeers, the husky dogs were also ready to whisk the children round the magic forest on the sleighs.
There was also an opportunity to play snowball flights, make snow angels, sledge down the ice slide and even take an exciting trip around the forest on the snowmobiles.
It was a perfect day watching the children with their rosy cheeks, red noses and beaming smiles singing songs round the campfire under the tepee drinking steaming hot chocolate and roasting marshmallows. After a spectacular firework display it was time for some hot food back at the Hotel.
Meeting Farther Christmas
After all the children and their families finished their meal it was time to wait in anticipation for their very special visitor Father Christmas. The children sang their hearts out loud enough singing Rudolph the Red Nosed Reindeer, which was sure to prick up Rudolph's ears and bring Father Christmas with his sleigh full of presents to greet the children.
Each child had the opportunity to sit with Santa one by one – handing over their Christmas lists and whispering their hopes and dreams to Santa, Each child had their photograph taken with Santa to remember a truly magical day.
Santa's Village
Even though it had been an exhausting day it was off to pay one last visit to Santa's village where the children had the opportunity to buy some special gifts for their friends and family and also pop into Santa's workshop and post office to get their very special envelopes with Christmas list stamped with the official Lapland stamp.
Needless to say on the flight home we had some very sleepy and tired children – dreaming of their magical trip to
Lapland
After arriving back at East Midlands Airport the children were greeted by our staff from head office and given a very special goody bag to end their very special day
Some special guests on board and feedback from families
We were delighted that Richard Whitehead, Zoe Tyler and Rebecca Ryan joined us on our annual trip and our host for the day was Lucy Kite from Central TV.
Fran and Nigel from BBC Radio Nottingham
Fran said "I want to say a huge thank you for letting me come along to Lapland on Wednesday. I have made two radio features which will be broadcast on Sunday morning at 7.18am and 8.50 on BBC Radio Nottingham during the show I'll be presenting"
"What a long day it was! But the kids seemed to love it and I'm sure they'll never forget it.
Thank you for inviting me on this truly magical trip"
Nigel commented
Can I just say what a pleasure it was to meet you and all the children and the team and for all the help you gave Frances and me. It was an inspirational trip. I managed to get three pieces on the radio while we were in Lapland – Breakfast, Morning show and Drive time – and will get another two packages to run next week. Fran is doing hers for the Sunday show.
Once again, thanks for the invite we had an amazing time.
Nigel

Thanks for the chance to come along to Lapland. . It was a brilliantly-organised trip and a fun day for us, too.
Tom from Leicester Mercury
Some comments from our Wish children and parents
" I think my favourite bit is seeing all the snow"
Bethan

"James is having a fabulous time; him and Jonas are firm friends now and it great that they can experience this magical trip together. Jonas said he liked skiing, the snow and the cold in fact he liked everything, his dad said "it's just amazing, what a way to finish of the year"
Katie, James mum (James and Jonas met each other in hospital whilst undergoing treatment)

"my favourite part was definitely the husky dog ride, it was totally amazing and they were so cute"
Sophie from Blaby said
"we had a reindeer ride and we've been throwing snowballs and playing on the sledges, its brilliant, I liked meeting Santa too and getting my present"
Four year old Maddox. For little Maddox it was a trip she had been looking forward to for more than a year.
"Words cannot describe what it was like, it was just fantastic. Joe had so much fun, he was literally rolling round in the snow. Joe couldn't stop smiling all day long"
Mum Lisa. 7 year old Joe from Meden Vale, Nottingham couldn't believe that he was going to Lapland to meet Father Christmas.

We think it's safe to say that all the children had a truly magical and a memorable day.
We also mustn't forget all the staff and crew at Monarch, East Midland Airport, the paramedics and helpers who volunteer their time to ensure all the children have an amazing time. We would also like to say thank you to our supporters who experienced the trip, without them and their fundraising support these trips would not be possible.
Thank you from all the East Midlands staff and fundraising team x