2nd July 2015
The Day The Circus came to Town!
Stockport Station had never seen anything like it as they were invaded by scores of children dressed as Princesses, Superheroes, Clowns and other assorted characters. We also had real Princesses, Cinderella, Rapunzel, Anna and Elsa from Arendelle, Ringmasters Paul and John, Stilt Walkers, Alice in Wonderland with the White Rabbit and of course a host of Celebrities from our favourite TV Soaps.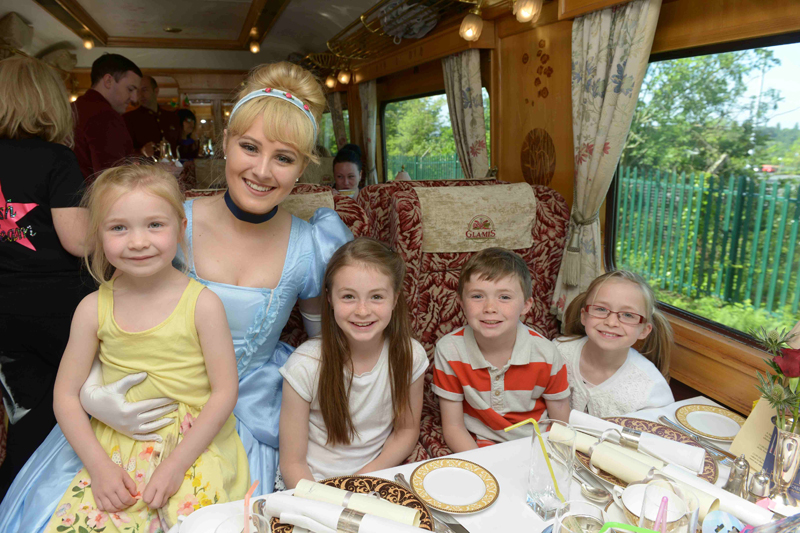 Suddenly there was a great whooshing sound and the longest train we had ever seen arrived on Platform 4. There were gasps from our families as the impeccably dressed train stewards leapt out of the carriages and stood on the platform to welcome us and all our guests on board The Belmond Northern Belle Train, sister train to the world famous Venice Simplon-Orient-Express.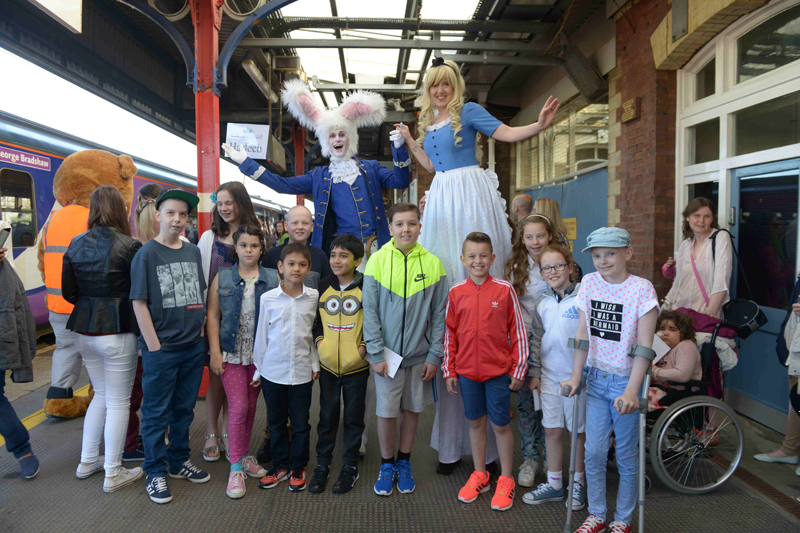 Everyone on board and off we go for the start of a wonderful adventure to the historic and haunted Muncaster Castle! We were greeted by the train managers Sandra and James and their amazing on board team, who attended to our every wish. Brunch was delicious and we were all ready for it as we rode along the beautiful coastline on our way to Ravenglass Station.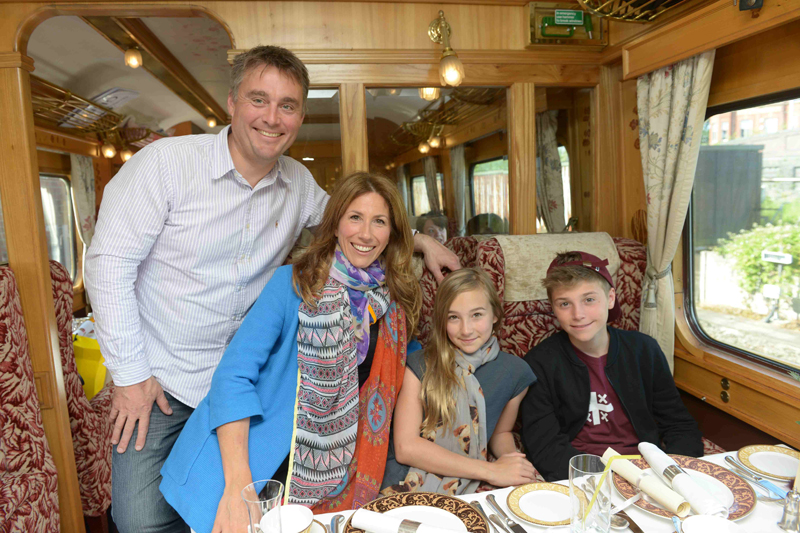 The Princesses were singing, the sun was shining, John Harding our Ringmaster was performing amazing magical tricks, Suzanne Sparkle was applying sparkly tattoos to all our children and we believe we saw one of our dad's with a glitter headband tattooed on his head!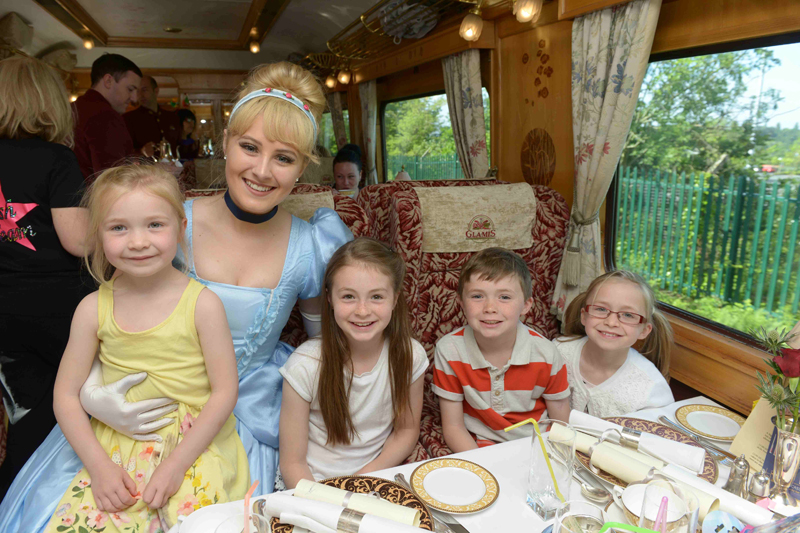 As we pulled into Ravenglass Station where our coaches were waiting, La'al Ratty the tiny steam train was on the opposite platform hooting hello to us and puffing out clouds of smoke.
On arrival at the Castle we were met by Iona the Lady who owns the Castle and she was joined by her husband Peter who had joined the train at Barrow and told everyone the history of the Castle which was built in 1258 and has been in Iona's family ever since.
To everyone's surprise as we walked to the castle, there was the most wonderful blue and yellow Big Top Tent, with clowns, stilt walkers, jugglers and lots of equipment for our families to play on. We wasted no time and all got stuck in!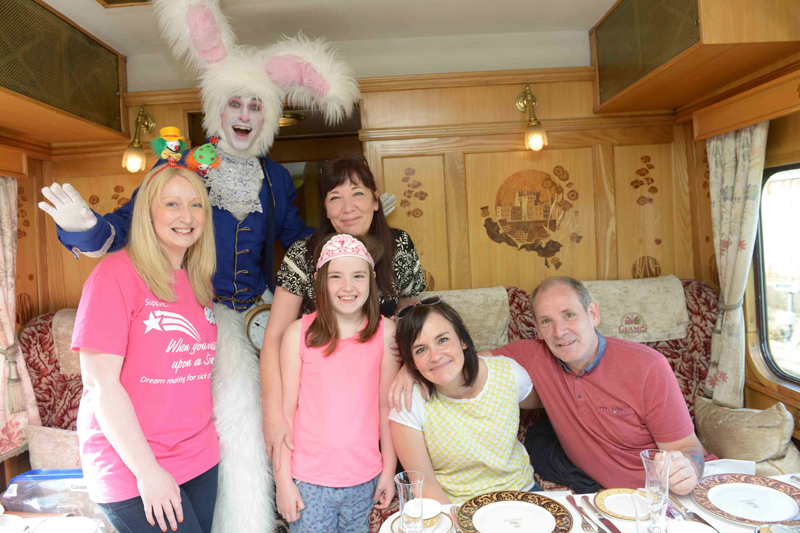 The clowns and magicians gave an hilarious show and had us crying with laughter, this was followed by the very beautiful and funny Flying Hunters Hawk Show which had a fantastic ending with 6 large birds of prey circling and swooping down to the most stirring and emotional music.
From there we went into the courtyard for tea and homemade cakes, then onto the finale of the day, our Frozen Show in The Big Top with Elsa and Anna. We sang and laughed our way through and then we all 'Let it Go' as the song says, but all too soon our 5 hours at Muncaster Castle was over and we were on our way to Ravenglass Station to be welcomed on board our train and settled down to enjoy our journey home. It passed far too quickly and despite the cake and ice cream we had wolfed down at the Castle, it didn't take long for us to eat our delicious 4 course dinner and having fun with lots of disco dancing clowns and singing Princesses.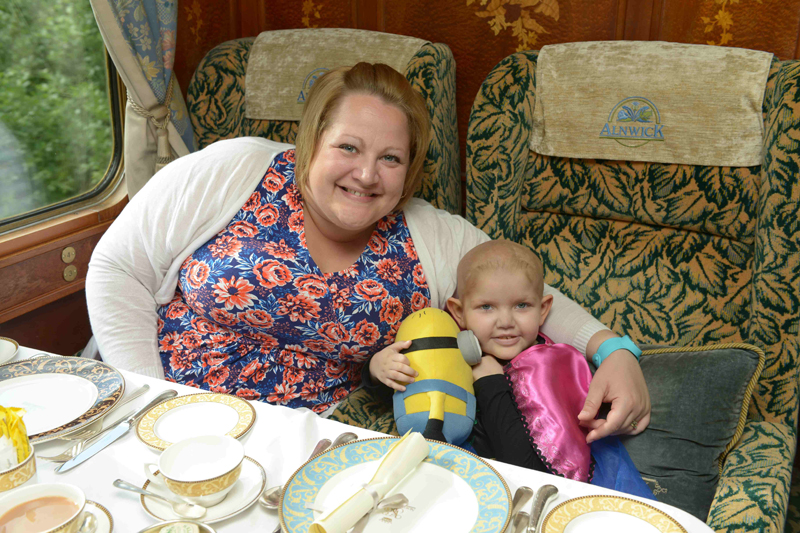 As we left the train there were a few tears, new friendships had been made, old ones renewed and everyone agreed what a marvellous day it had been and we'll leave the last word to young Ruby who said:
'It has been the best day of my life'