21st December 2015
Luke smashes his Target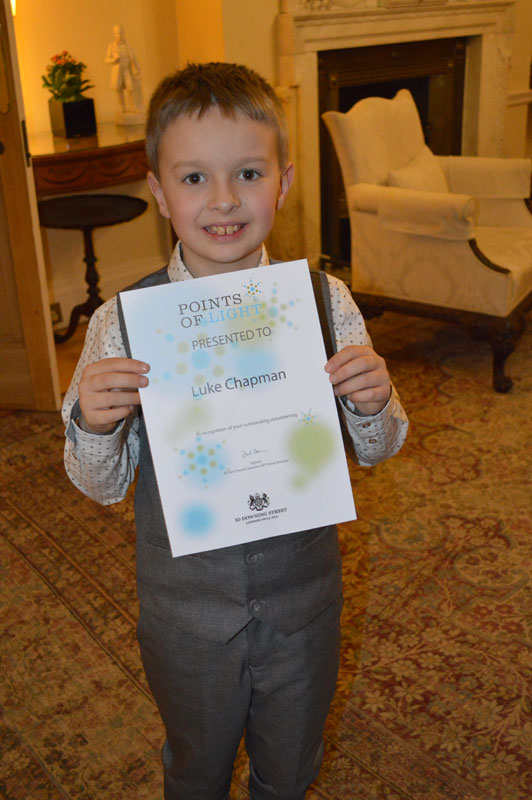 Luke came up with the idea for someone, anywhere in the world to help celebrate A 'National Day', in doing so they would help Luke raise funds… there are more National days than you would have thought, a few favourites were, Star Wars Day, Chocolate Day, Weather Man Day, Ice Cream Day and Be A Millionaire for the day and hundred's more ……..
Ever since the 1st January 2015 Luke hasn't stopped raising funds and this is truly exceptional for anyone, especially someone who is only 9 years of age! It's not only us that think so, just a couple of weeks ago Luke was invited for a very special day trip to London but he had no idea what was going to be in store and certainly didn't anticipate meeting the Prime Minster, Mr David Cameron!!
The Prime Minister had heard all about Luke's fundraising and was so impressed, he appointed Luke with the 421st 'Point of Light' and invited Luke to 10 Downing Street to receive his award personally from himself
Luke's £25,000 target has now been smashed and currently stands at £27,580.53 and is still rising….
We are so proud of you Luke, so Thank You so much for helping When You Wish Upon a Star make so many more magical Wishes come true.
If you would like to donate to Celebrate a Day with Luke please click on the link below.
https://www.justgiving.com/kelly-chapman1/3/?utm_source=Facebook&utm_medium=fundraisingpage&utm_content=kelly-chapman1&utm_campaign=pfp-share]