19th September 2016
Our local Firefighters have given themselves a mountain to climb
In fundraising efforts to help grants Wishes for our brave children, our firefighters shall be scaling the height of Everest.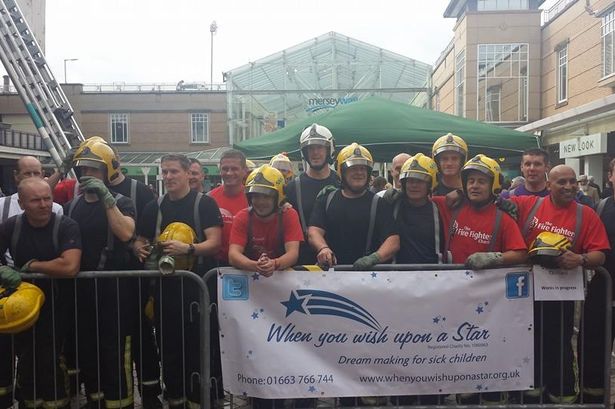 Crew members from King Street station in Stockport will be at Merseyway on September 24th from 10am to 4pm for their latest charity endeavor.
They will take it in turns to scale a ladder up to the first floor walkway at the shopping centre until a combined total of 8,848m is reached.

Firefighters from the station including Ian Mackintosh, Steve Wood, Dave Cracknell and Kevan Downey have already completed the London Marathon , a triathlon, the Manchester Marathon and an SAS test march respectively.
Kevan said: "When we did this two years ago we had between 10 and 20 firefighters doing it so the more crew that turn up the quicker we reach our target.
"We'd like the public to turn up to cheer us on and keep us going. We're scaling our 13.5m ladder until we reach Everest!"
In previous years other fundraising escapades have included completing the Great Manchester Run in full breathing apparatus and dressed as one long human caterpillar.
To donate visit www.justgiving.com/firemen2016
Text hose60 plus the amount to 70070.