23rd September 2016
Key 103 Superhero Day raises £120,336.09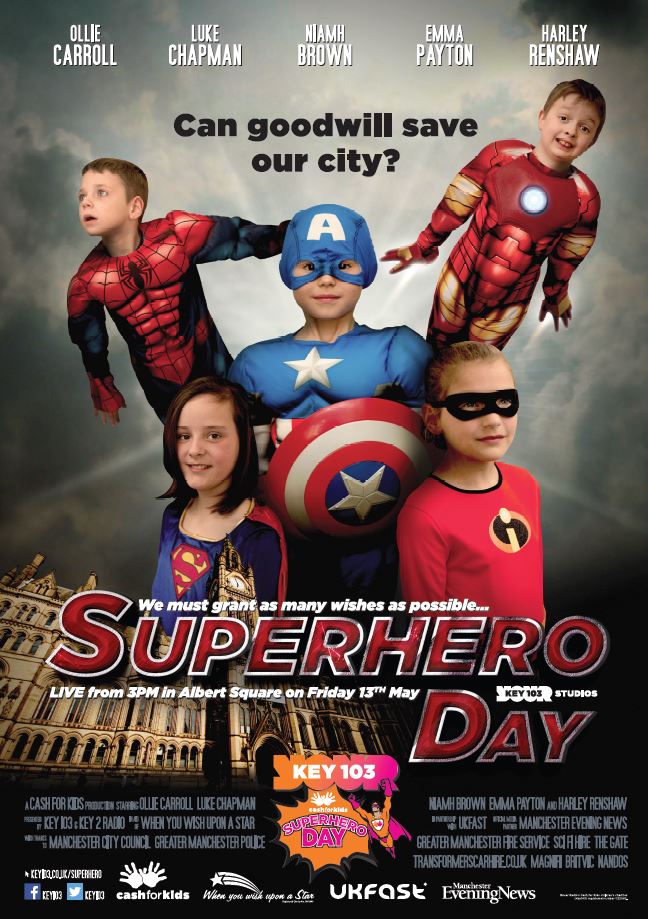 What an amazing morning we have had! We are so very proud and honoured to have been the chosen partner of the amazing Manchester Charity, Key 103 Cash for Kids for their Superhero Day in May.
The incredible campaign, culminating in bringing the great city of Manchester's Albert Square to a standstill, meant that this morning we were presented with one of the largest cheques we have ever received …
£120,336.09… WOW! WOW! WOW!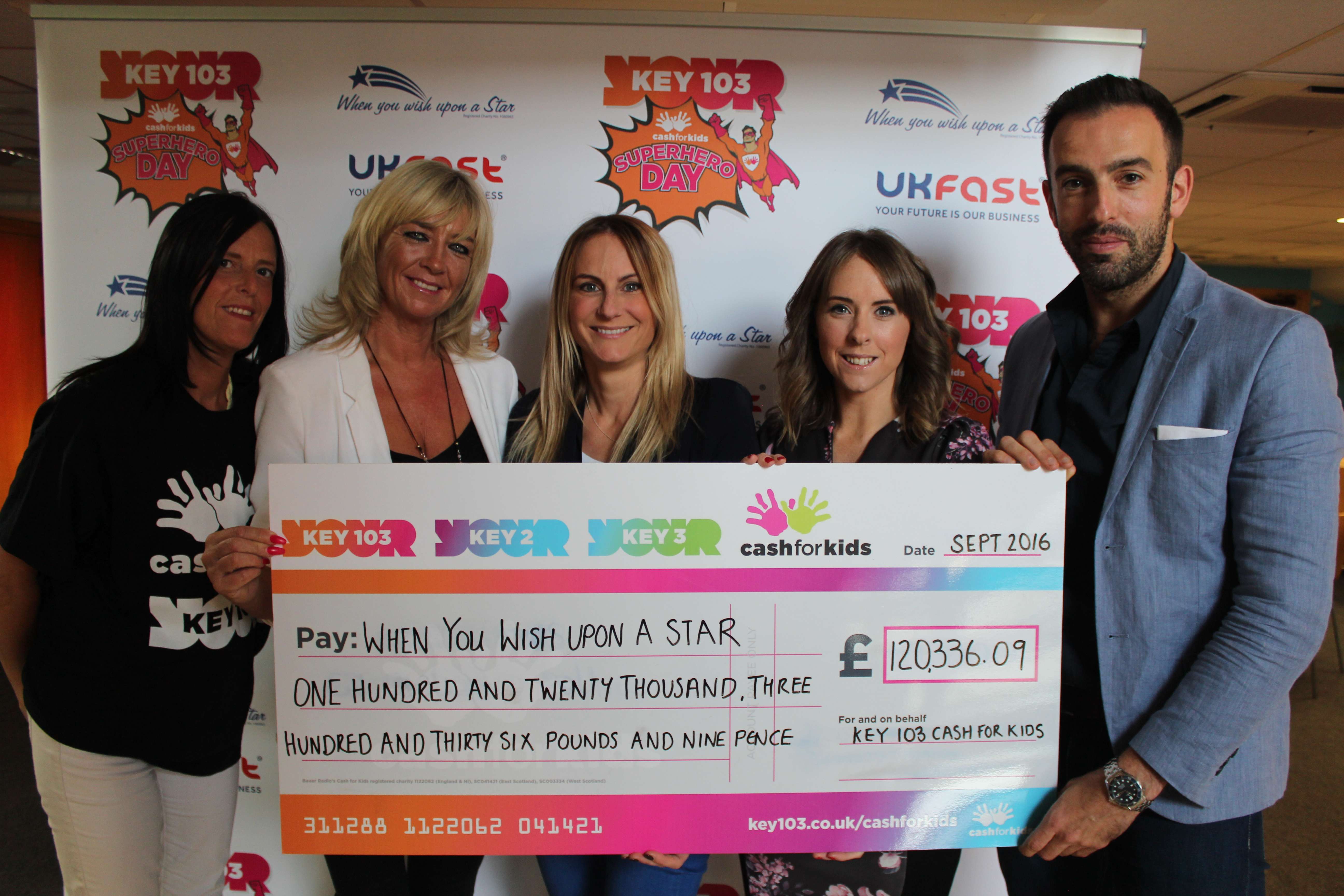 This huge amount of money will enable us to give children so many different wishes. Each year we are asked by teenagers for tickets to pop concerts, rides in limos, special Birthday parties, ipads, a meet and greet with their wrestling hero or their pop idol. The younger children want to meet Peppa Pig, Postman Pat, Visit Digger Land and Lego Land… The biggest and most popular wish from children of all ages is always Disneyland and swimming with dolphins in Florida, a visit to Santa in Lapland, holiday in the sun or a Winter Wonderland break at Center Parcs.
The amazingly generous and caring listeners of Key 103, are special people who willingly give from their hearts to children from the Greater Manchester region. They got behind their favourite radio station's Superhero Day, with tremendous ingenuity and energy to make an incredible difference to the lives of local children and their families.
This extremely generous donation will enable a huge number of children, from Greater Manchester, to experience the magic of a having a wish granted by us. To be able to spend precious time together as a family, away from long stays in hospital and sometimes painful treatments, brings happiness, laughter and smiles, to a child going through a difficult time.
We feel particularly privileged to have been chosen by the Manchester's iconic radio station Key 103 as we are one of the smaller charities, and despite the huge number of wishes we grant each year, we are often overlooked by large corporations, who fear we may not live up to their expectations, because of our size.
When You Wish Upon A Star come's into a child's life at a crucial stage when they really need a boost to deal with the consequences of their long term illness. The generosity of the Greater Manchester listeners, coupled with the hard work and utterly jaw dropping Superhero Day, created by Key 103 Cash for Kids, ensures that we are able to sprinkle lots more fairy dust over children waiting for a Wish, and make their incredible dream come true.
From our hearts ……….. A Million Thank You's
The North West Wish Team xxx
'Cash for Kids are proud to support many other charities and 'When you wish Upon a Star' has captured the hearts of both our own team and the listeners to Key 103 and the people of Manchester. We are thrilled that this substantial sum will deliver the wishes of so many deserving children and bring some joy into their lives. ' - Sally Aitchison MBE Cash For Kids Managing Director
'On behalf of Key 103's Cash for Kids we're so proud to be able to handover a cheque for £120,336.09 to When You Wish Upon A Star. The work they do is vital, they bring hope, happiness and excitement into a child's life, when they are fighting their biggest battle. I have seen the work they do first hand and know what a huge difference this donation will make, to so many children that desperately need a helping hand. This year's Superhero day brought together not only the City of Manchester, but lots of amazing people, all focused on granting five very special wishes to five inspirational children. Massive thanks to Key 103 and it's listeners for being heroes and going above and beyond.' – Russell Feingold, Key 103 Cash for Kids Charity Manager
'It is my pleasure to thank Key 103 Cash for Kids and the amazingly generous people of Greater Manchester, for the truly staggering success of their Superhero Day held in May 2016. When You Wish Upon A Star is proud to have been granting wishes for over 25 years. We have always received tremendous support from our warm-hearted friends in the Region, as we try to make a difference in the life of a child suffering from a life threatening illness. It is clear that every member of the dedicated Key 103 Cash for Kids team, worked tirelessly to plan the campaign. When the appeal went out to the listeners of Key 103, thousands of Superhero's answered the call and each donation, whether from an individual, school, group or company, truly did make a difference. On behalf of the children of 'When You Wish Upon A Star' who will benefit from your outstanding generosity, a huge THANK YOU'. - Barbara White, OBE Founder
'This has been the most wonderful opportunity working with Key 103 Cash for Kids, and has enabled us to be in a strong position to grant many more extraordinary Wishes for some incredible children. I will never forget the Superhero Day in Albert Square, and the excitement and emotion everyone felt as the cavalcade rolled into town. It was Electric! People were hugging each other and cheering, the noise was deafening with cars hooting as the Amazing Optimus Prime turned into the Town Hall and all the Superheroes were everywhere at once. Manchester turned out in force for this truly magnificent spectacle, the like of which we hadn't seen before. To be able to work with the professional Team at Key 103 has been a terrific experience and The Wish Team will never forget the day the Superheroes came to town' – Maria Moseley, Fundraising Manager.
'From the day I started working alongside the Key 103 Cash For Kids Team, It was very clear they had an amazing vision, to help us create magic across the city of Manchester… This was promise they did not break. On Superhero Day I had the privilege of riding in convoy with the Wish Children through the packed streets of Manchester, the atmosphere was electric, thousands of people cheering for our Superheroes, This is something the children and families will never forget. The staggering amount of £120,336.09!!! will enable us to create so many more wonderful memories for sick children across Greater Manchester… there will never be enough words to thank The Key 103 Cash for Kids Team and the good Key 103 listener for what they have done for our charity. Thank you for being the highlight of our year.' - Jen Hughes, Regional Fundraiser