4th October 2016
Tyco North West Grass Roots Team makes a Wish come true
The North West Grassroots Team initiated a localised project back in January 2016, where they decided to re-route the donation of £5 for every near miss reported, from employees based in their Tyco Park office from a National Charity, to an 'employee nominated', North West based charity.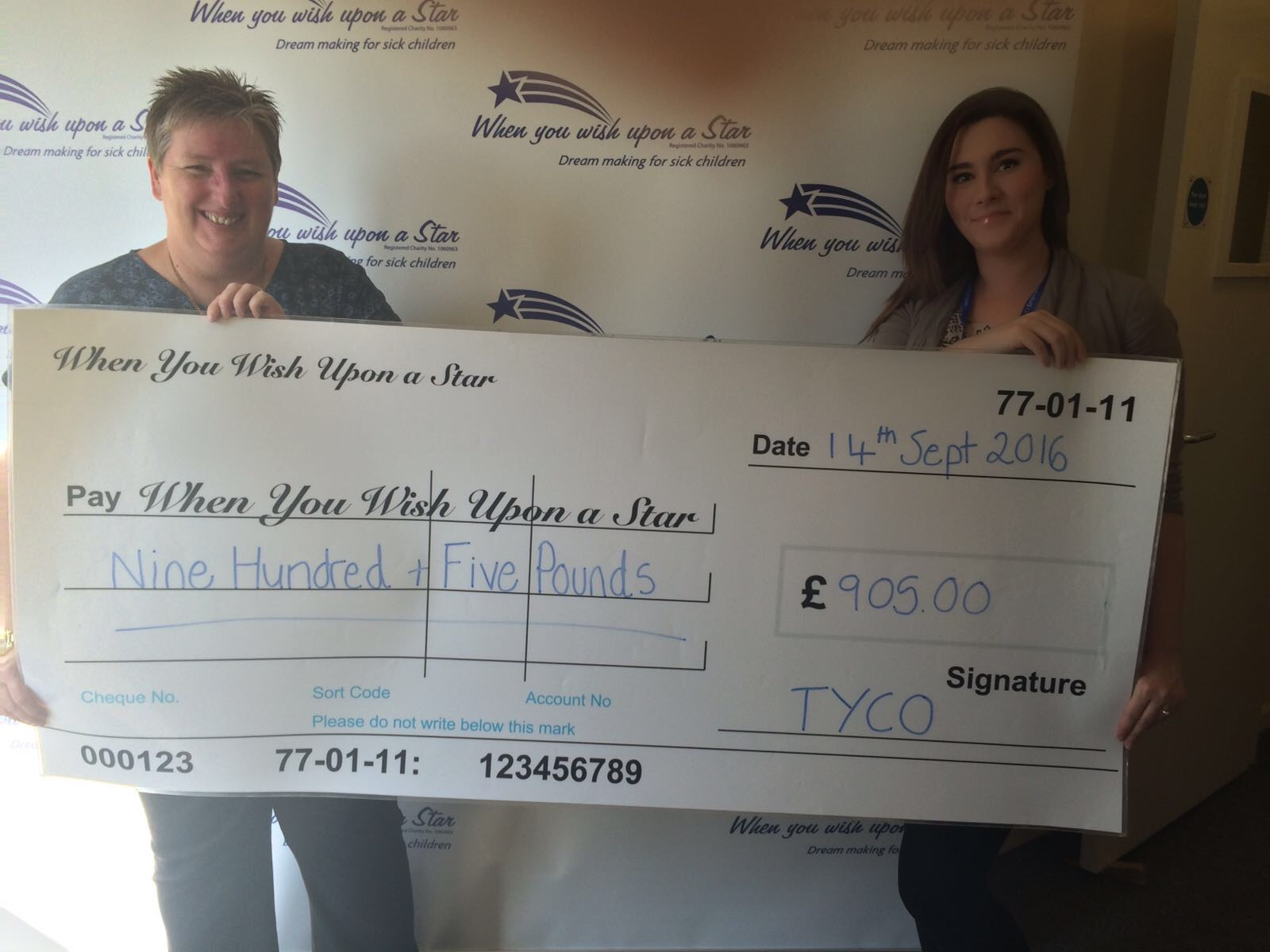 One of their nominated charities was 'When You Wish Upon a Star' and on the Wednesday 14th September, Michelle Monaghan – Business Support Lead & Jayne Cobban-Hughes – QEHS Specialist had the pleasure of presenting us with a cheque for £905
Jen Hughes – Regional Fundraiser for the charity said "When You Wish Upon a Star are incredibly grateful for this donation. Not only will this help to grant Wishes for our very deserving children, but it will also raise awareness for the charity. These Wishes have the power to transform the lives of the children and families we work with, helping them create special memories and giving them a break from the hospital routines and treatments".
The Grass Roots team are incredibly proud that by highlighting near misses and dangerous occurrences in their region they were able to grant a family of four a 3 day break to a Magical Winter Wonderland in a snow filled forest at Center Parcs. The forest will be transformed into a magical home of Elves, Fairies, and Disney Princesses, with a real Reindeer and of course a visit from Santa Claus. The highlight of the weekend is an Amazing Frozen Ball, with a visit from Princess Anna and Elsa and so much fun to be had by all the family
As well as helping others, the team hope that this project will encourage people to stop & think about how they can make the difference. Not only to themselves and their colleagues through highlighting and eliminating hazards within their working environment, but also the £5 donation per near miss will help to make a positive impact on the lives of people within our North West region.