22nd September 2017
Stars for Wishes
This Christmas we're asking
if you can help more stars to shine
At When You Wish Upon a Star we know just how important Christmas is to our Wish families, supporters and loved ones.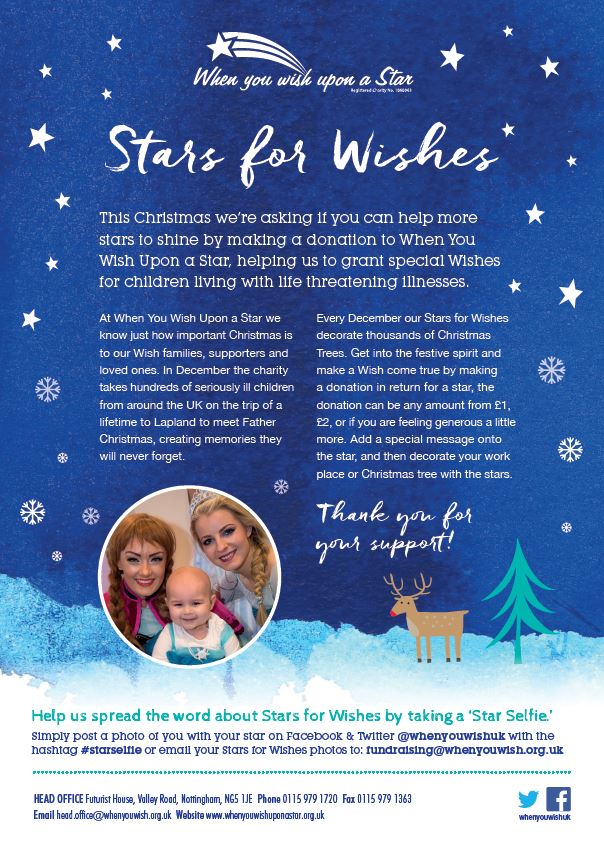 In December the charity takes hundreds of seriously ill children from around the UK on the trip of a lifetime to Lapland to meet Father Christmas, creating memories they will never forget.
Every December our Stars for Wishes decorate thousands of Christmas Trees.
Get into the festive spirit and make a Wish come true by making a donation in return for a star, the donation can be any amount from £1, £2, or if you are feeling generous a little more.
Add a special message onto the star, and then decorate your work place or Christmas tree with the stars.
Help us spread the word about Stars for Wishes by taking a 'Star Selfie.' Simply post a photo of you with your star on Facebook & Twitter @whenyouwishuk with the hashtag #starselfie or email your Stars for Wishes photos to: fundraising@whenyouwish.org.uk
Thank you for your support
Please share our page through your social media sites, through the links below