17th January 2012
Summer's Wish
Summer's wish was to go to London to shop for handbags and shoes and to meet up with her idol the lovely Fearne Cotton at a secret location.
Behind the scenes plotting and planning confirmed, the next stage would be how to keep the special surprise a secret until we could get a very intelligent Summer on a train heading for London, without any suspicion.Mmmm
Arriving at Chester train station, for a shopping trip to Liverpool with her mummy, Summer is surprised when 'Wish Fairy' Sam turns up and tells Summer that she will also be accompanying her and her mummy to Liverpool for a girly shopping day.  Soon though, all will be revealed as an announcement is made over the tannoy that Summer isn't on a train to Liverpool, but is in fact on a train to London to meet Fearne Cotton.
After a very giddy fun filled train journey, we finally arrived at Euston station.
Summer unfortunately, over the few years has gradually lost a lot of her sight due to her medical condition and is now having to learn how to get around with the use of her rather long white walking aid... Summer's stick however turned out to be a great weapon in disguise, (Summer taking out anyone in her path) ha-ha, and just what we needed, in the thick of the large London crowds.
With time on our side until we reached our meet and greet destination, Summer wasted no time at all and had soon purchased a pair of gorgeous girly pink glittery shoes and a pair of furry ear muffs, all ready and in place for her very special meeting.
Arriving at our destination, we were escorted to a meeting room' where we would wait for Fearne to finish her earlier appointment. It wasn't long though until Fearne came bursting through the door, looking very excited to be meeting Summer too.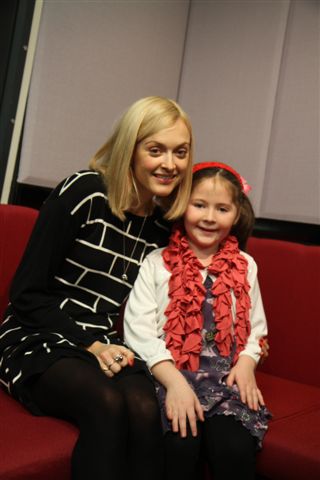 In no time at all Summer and Fearne were chatting away like old friends, with Fearne happily answering Summer's rather direct but very funny questions.  After presents were exchanged and lots of photographs later, it was time for us all to say goodbye and let the adorable, very special and warm hearted Fearne, rush off to her next appointment, that she was now probably very late for.
We now had the rest of the day to spend shopping and sightseeing in London, before heading back to Chester later that evening... firstly though, checking out the all important shops Fearne had earlier recommended.  Summer was on one mission only and this was to buy a new' very' special handbag.
We shopped at Covent Garden, Hamleys, Oxford, Regent and Bond Street and still could not find 'THE' bag... At last Carnaby Street had the answer where Summer spotted the bag of her dreams...(Thank goodness for that) It was a bright pink bag that looks like a stereo and has a compartment to fit your MP3 player in, so you can "blast out Radio 1 all day long as Summer put it.
Heading back home a very happy, sleepy Summer asked her mummy, why her very special day had to come to an end? For Summer this day really had been the best day of her little life and all her wishes had come true.. Thank you Fearne.