26th April 2012
Dami & Eve's Wish
Demi and Eve's wish came true, when they got to meet the boys from JLS, backstage at a very special meet and greet, just before their show began.
Aston, Marvin, Ortiste and JB very gently lifted Demi out of her wheelchair, taking their time to position her between them for the perfect picture. This moment was so magical and unforgettable and had been the driving force and motivation behind Demi's painstaking recovery. Up until a few weeks earlier Demi had been completely bed bound in hospital and had been for several months.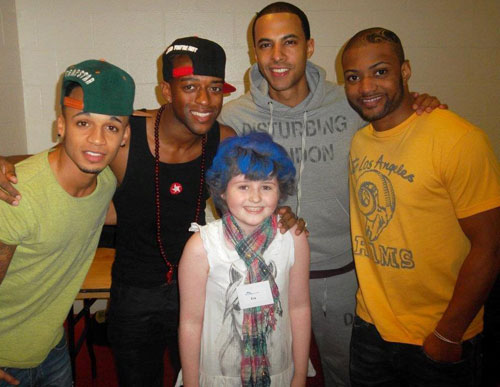 In October 2011 Demi and her family, received the devastating news that she had a medulloblastoma brain tumour. Demi immediately started a very intense course of treatment, including radiotherapy, chemo and surgery.. Due to complications Demi also had to learn to move, sit and walk again and still undergoes many gruelling hours of physiotherapy and hospital appointments today.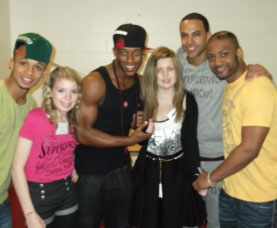 Demi was a huge hit with the nurses at the R.M.C.H and because of her courage and determination she had shown towards her recovery, the nurses wanted to do something to show how very proud they were of her, and to also keep her huge determination going... After a lengthy chat with one of the Macmillan nurses the Wish Team put a plan into action, that would keep Demi motivated and inspired... Yes Demi was going to meet her Idol's JLS...
Meeting JLS has meant so much to Demi in so many ways, and has given her the motivation to battle her long road to recovery with a new lease of life.. Demi is a true inspiration to many teenagers, and all the team at the Northwest office are so very proud of her too.