28th May 2012
Lexi's Wish
A very excited Lexi along with her mum were picked up from their Accrington home in celebrity style and chauffeur driven to the Hilton Hotel in Wembley, picking up the Wish Fairy and guests along the way.
After a lovely walk round Wembley arena to stretch off the legs, and a little explore, it was back to the hotel for a swim and a very yummy evening dinner!!.. A lovely surprise for the children was the gorgeous Abi (Simon Cowell's) PA, dropping in to say hi, and to join us all for dinner.. A very tired but excitable Lexi finally waved goodnight and off to bed before her big day tomorrow.
Arriving at Fountain Studios we were all given V.I.P wristbands which enabled us to access all areas (oh dear)!!...With lots of time on our hands until Ant & Dec were due to arrive on the BGT set to start rehearsals for tonight's show, it was off to the canteen for us, where we could stakeout all the contestants and presenters and ambush them for autographs and photo's, no-one escaped!
Front row seats we were given as the dress rehearsal took place, and within a matter of moments Lexi's face was a picture, as stood on stage directly in front of her appeared the lovely Ant & Dec to present the start of the show... For several hours the studio was alive as all the performers showcased their act for tonight's live show, and Ant & Dec casually standing next to us each time they exited the stage, throwing big beaming smiles and chatting away to us constantly.
Once the rehearsal was over and Ant & Dec were officially of duty, Lexi's magical moment finally arrived when both boys bounded over towards Lexi where they happily stood chatting, posing for pictures with her and basically just goofing around like they do!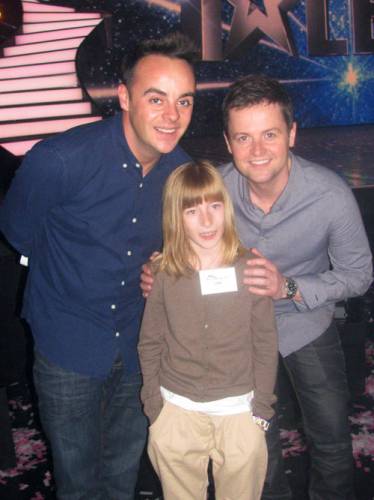 For Lexi her dream wish had come true, and her smile was the biggest you have ever seen, but just before we were getting ready to head back up North, we had just one more little treat planned for Lexi.. Stood smiling behind her waiting to say hello, was our fabulous Ambassador the one and only Simon Cowell.. After lots of cuddles and photos, Lexi presented Simon with a Union Jack mug which he just loved and promised her he would take it with him on the live show with him tonight.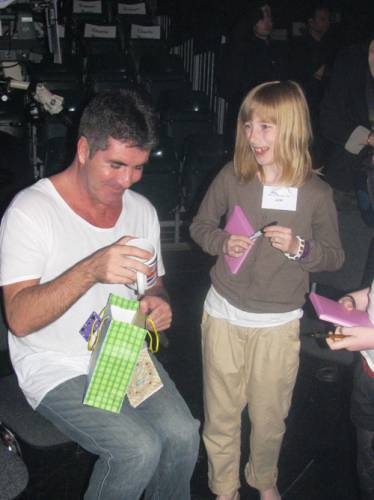 Later that night on our journey back up North, Lexi was just reliving every exciting moment she had experienced throughout the day, when she received a phone call from a family member, exactly just what was sat on Simon's desk on Britain's Got Talent... yes, a Union Jack mug!