16th August 2012
Ronaldas' Wish
Delightful Ronaldas, who is 9 years old, had a wish. His Wish was to visit Rome with his family and see the Pope.

Unsure of how long Ronaldas was going to remain strong enough to travel, we started making urgent enquires,doing our very best to make this brave and courageous childs Wish come true..
On the evening of the 6th of August he and his family arrived at a hotel close to Birmingham airport, excited about the journey ahead.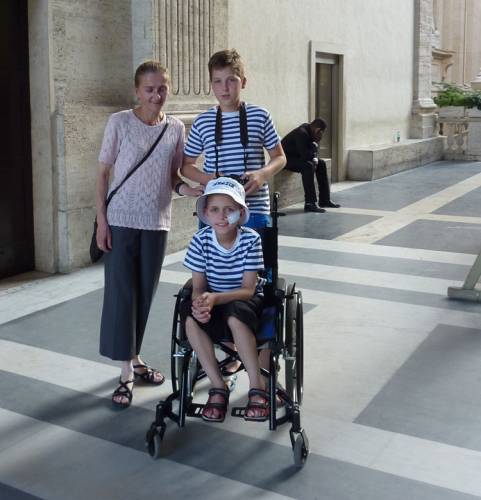 5 am on the 7th of August they checked in and awaited their flight in anticipation. The flight went quickly, as Ronaldas was tucked up in a blanket having a few winks of sleep, his brother Klaudijus kept us entertained by trying the pillow and eye mask out.
As they departed the aeroplane, the heat and sun light pleasantly surprised them, they were quickly taken through for their luggage and placed into a taxi.
By 12 noon the family were settled into their room at the Villa Degli Angeli Hotel. They visited the small town of Castel Gandolfo in the early afternoon and spotted the Pope's summer residence (not realising that the next morning that was where he was holding his Papal Audience). Later that day the family were taken into Rome to see the Vatican in St Peter's Square, which was stunning.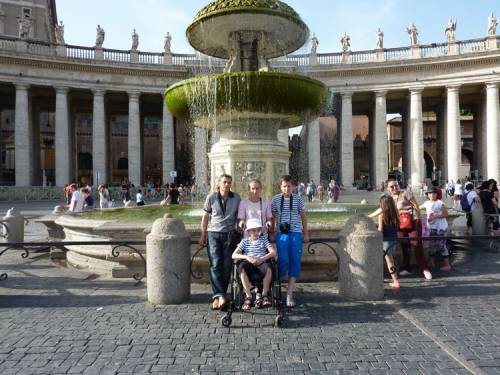 Ronaldas was sleepy after his long day and was tucked up in bed early ready for the special day ahead.
Breakfast was served early the next morning and the hotel kindly transported the family into Castel Gandolfo. On arrival the family were overwhelmed by the amount of people that had also travelled to be part of the audience, the atmosphere was electric and the happiness and excitement was contagious! The difference was, it had been specially arranged, after lots of time and dedication, for Ronaldas and parents to be blessed by his Holiness, Pope Benedict XVI.
The moment Ronaldas and his parents walked on to the stage to be blessed was surreal, the emotion engulfed everyone and there wasn't a dry eye in the vast crowd.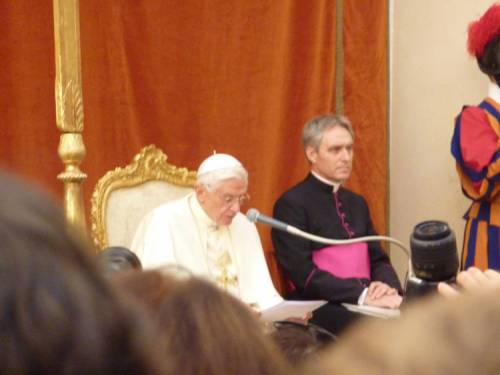 Our representative, who co-ordinated the trip and accompanied the family, was mesmerised by the moment and felt so incredibly proud of all the supporters who give up their free time to raise funds, which enables When You Wish Upon A Star to grant these truly special and personal Wishes that provide long lasting very personal and precious memories that families can cherish.
Dear When you wish upon a star foundation organisers,
Thank you for the opportunity to visit Rome that was given for Ronaldas and our family. A big thank you to Barbara for organising the trip, Tracy for looking after us on the trip and to everyone who has chipped in to organise this special day for Ronaldas.
We have had a very special experience meeting the pope and viewing the amazing sites of Rome and also enjoyed the beautiful weather. Ronaldas has had a great time and the trip was organised just in time before he has gotten too ill to travel. We are very thankful for this trip as it has given us more lovely memories spent with Ronaldas. We are so touched that there are people out there and organisations like yours who are about kids like Ronaldas.
Ronaldas is sending everyone big hugs and kisses.
Yours Truly, Family of Ronaldas