12th October 2012
Alex's Wish
This was our pleasure, Alex who was 2 years old had already received treatment for an aggressive brain tumour and was now awaiting to start further treatment to treat his lungs and bones.
Our Fairy Godmother started work immediately. Alex was soon turning 3 and his family wanted to make the most of his time whilst he was well and able before his next treatment.
Peppa Pig and friends were more than happy to assist and on the 13th August the family set off for Hampshire to enjoy a few days together with the special "Wish" of meeting Peppa Pig".
Please see Mum's story below of their unforgettable "Wish".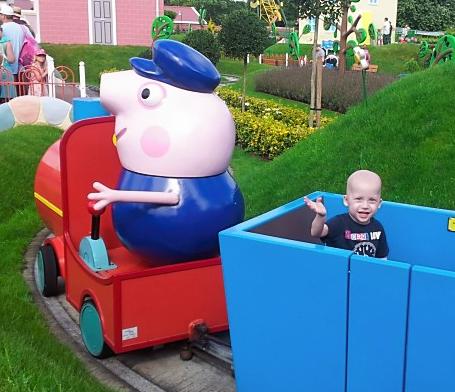 The trip feels like a lifetime ago now, it was fantastic! We can not thank you enough for such an amazing time away. The hotel was excellent and they were so friendly and helpful; we couldn't believe how close it was to the Park! The meals were very tasty, and the boys enjoyed eating out because the got a lot of attention from all of the staff. We spent 8 hours in the Park, we couldn't believe how long Alex managed there; he was just so excited and happy all day, it was so nice to see and even we didn't want to leave! He went on all the rides, even went on some twice! They loved meeting Peppa and George at the start of the day, I think Alex was a bit shocked to actually meet them, even though we told them what we were about to do he still seemed shocked (in a good way!). We got the park to ourselves for a short while in the morning before the Park opened, this was great as Alex and Harry were able to explore and run around in all directions; then we got on 3 rides within half an hour of the Park officially opening, which kept Alex happy! Alex then spent all day asking to meet his other favourite character, Zoe Zebra; we spent all day keeping an eye out for her and just as we were about to leave we saw her; Alex was so excited!!!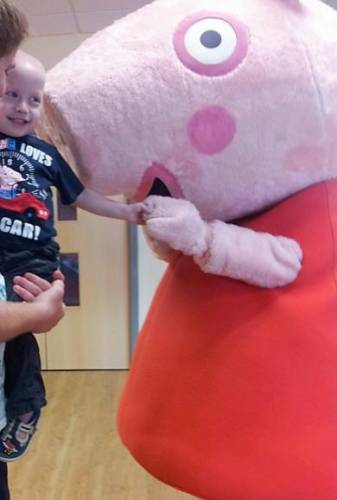 The whole day was just incredible, we have never seen Alex so happy for such a long time, thank you so much for such a great trip which we will never forget! Alex has been telling everybody about his trip to Peppa Pig World and he gets excited just talking about it, so I don't think he will ever forget it either. We have printed all of his pictures out for him so he can keep reliving it!
Once again, THANK YOU, THANK YOU, THANK YOU!!! We had a unforgettable day thanks to you all. Thank you!

From Sarah, James, Alex and Harry.
Many thanks to Poulton's Park and Mortimer Arms Hotel for their support and assistance in granting this Wish for Alex.