12th October 2012
Megan's Wish
Megan must be Peppa Pig's biggest fan as she never misses an episode and must own every DVD that Peppa Pig has ever starred in.
Megan's Mum, Fiona had taken the time to write into When You Wish Upon a Star in the hope that we may be able to help in some way, and within a few short weeks Megan's Wish to meet Peppa Pig was all booked with a surprise VIP visit to Peppa Pig World at Paultons Park, for Megan and her family with a 2 night stay at the Mortimers Arms in Romsey.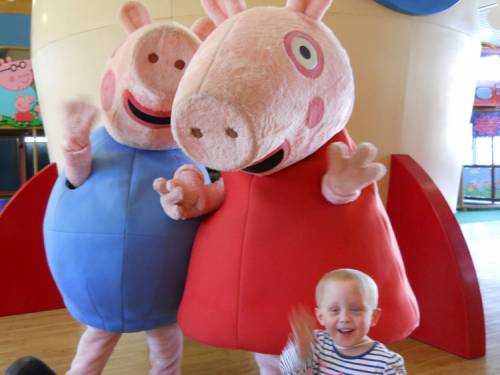 The drive down from Lutterworth to Romsey was very exciting for Megan especially when we pulled into a service station only to see a giant billboard advertising Peppa Pig World.
Megan and her family arrived at the Mortimer Arms late afternoon, unpacked their things and had a delicious meal in the hotel restaurant before settling in for the evening with a good night's sleep before Megan's big day.
The next morning after a hearty breakfast we all set off a few hundred yards down the road to Peppa Pig World at Paultons Theme Park. The sun was shining with not a cloud in the sky and the atmosphere as we reach the entrance was magical.
We were greeted by the staff at reception 30mins prior to the general public opening and were escorted through Peppa Pig World with music being piped throughout the park, stopping occasionally to look through the cages at the small animal zoo where we saw Flamingos, Wallabies and Emus while making our way to George's (Peppa Pig's brother) Spaceship play zone which is an Indoor Play Centre, which Megan recognised instantly.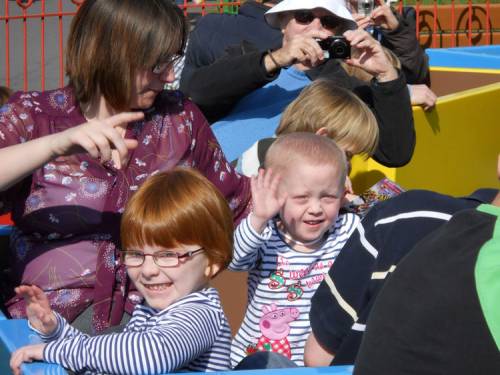 Megan was just happy to be inside George's Spaceship, exploring the play zone and taking it all in, chatting excitedly with Mum and explaining to everyone how Peppa Pig and George jet off in their spaceship and telling a few of the tales that surround it and the adventures they all get up to.
Mum then asked Megan to look outside through the window and asked if she could see a special someone walking this way? when Megan turned around she immediately shouted out that it was Peppa Pig with George! Megan was so excited and in awe of coming face to face with them both, her beautiful little face just lit up. Knowing just how big a fan Megan is of Peppa Pig, it all became very emotional as Megan's Wish became a reality.
The first thing Megan wanted to do was to introduce Peppa Pig and George to all her family going through everyone individually telling them their names, wanting them all to be a part of it, for her to share the excitement and enjoyment that she was feeling, including a very shy Alistair who is approaching his teenage years was a little shy of being photographed with Peppa Pig but still joined in making Megan's Wish special to her.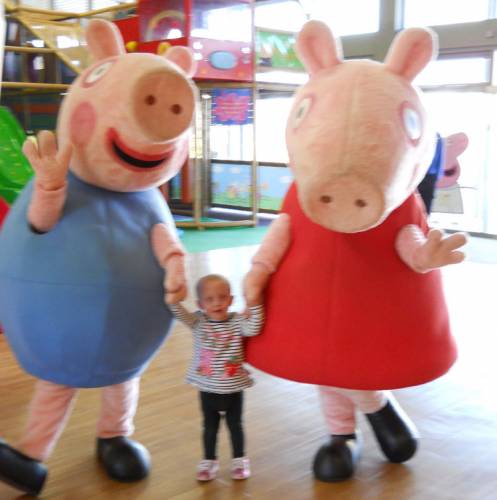 Peppa Pig and George were amazing and spent quite a lot of time with Megan and her family, while they took a few photographs and video footage of them all hugging, holding hands, tap dancing and pretending to jump in muddy puddles, which Peppa Pig and her friends love to do. Megan and her sister Sarah were particularly comfortable chatting away to them both for quite some time before Peppa Pig and George had to leave to go off and have their breakfast. So it was finally hugs all round before saying goodbye.
Megan with her family spent the rest of the day within the park going on the various attractions including a visit to Peppa Pigs House, Peppa Pig's School, one of Peppa Pigs favourite places the Library and the Campervan before taking a ride in Daddy Pig's Car Ride, Grandpa Pig's Little Train & George's Dinosaur Adventure to name but a few and lunch at Daddy Pig's Big Tummy Cafe.
That afternoon a very tired Megan and her family returned to the Mortimer's Arms Hotel to spend another night before returning home the next day, where all the staff were very keen to hear about how Megan's had enjoyed her day, she had certainly made a good impression on everyone she had come into contact with and touched everyone's heart.