17th October 2012
Freya's Wish
Our Wish team received a request to grant a wish for a very special little girl named Freya, who urgently requested the assistance of her favourite character, Fireman Sam.

Freya is 2 years old and has been receiving intense treatment for Rhabdomyosarcoma, sadly in September the family received the devastating news that the treatment wasn't successful and they are currently awaiting advices as to whether any other form of treatment can be considered.
With this knowledge our Fairy Godmother waved her wand and urgently requested the assistance of Freya's favourite Character "Fireman Sam". Within a couple of weeks a surprise party had been organised with a special guest appearance.
On The 12th October Kidz About, in Swindon, kindly donated their venue, time and catering to ensure Freya and her guests had a very special evening. The party room was filled with Fireman Sam accessories and a fabulous Cake had been made by one of our Wish Parents.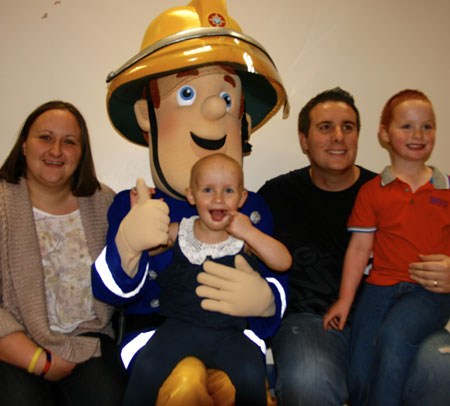 Wish Bear greeted the guests on their arrival and then joined them in the play area, where Freya and friends accompanied Wish Bear down the Slide! There was lots of smiles and laughter, and after everyone had started to tire they all gathered in the Party room for food and refreshments.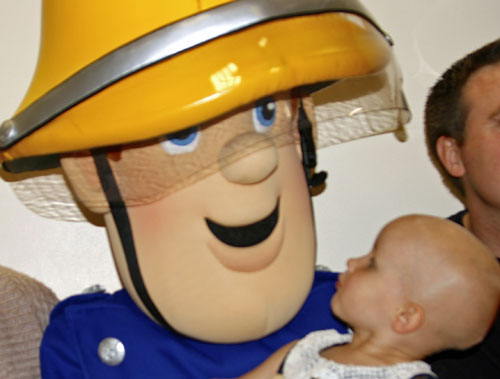 Freya was overwhelmed by the attention and loved the cake; however we had saved the best until last. Once the children had finished refuelling Freya and Ryan (Freya's Brother) were taken back into the play area where they were shocked to find Fireman Sam descending the stairs! The look of amazement on both their faces was magical. Fireman Sam presented them both with a present and then took them off to play. 15 minutes later the other children came to join in the fun, Freya wouldn't let Fireman Sam go until he had also been down the slide! There was a penalty shoot out and lots of fireman's lifts, unfortunately Fireman Sam received a call out to rescue a cat from up a tree so had to say farewell. It was a very emotional evening but so lovely to see Freya and friends happy and smiling.
Many thanks to Kidz About for assisting us to make this little girls special Wish become a reality...