7th November 2012
Nathan's Wish
On Saturday 13th October Nathan was treated to watch the recording of The Big Friday Wind Up at the BBC studios in Salford.
Nathan had the surprise of his life when an 18 seater Hummer turned up to pick him up! At the studios he was met by the Producer of CBBC, Helen who escorted Nathan and Mum to front row seats in the studio ready to watch the show.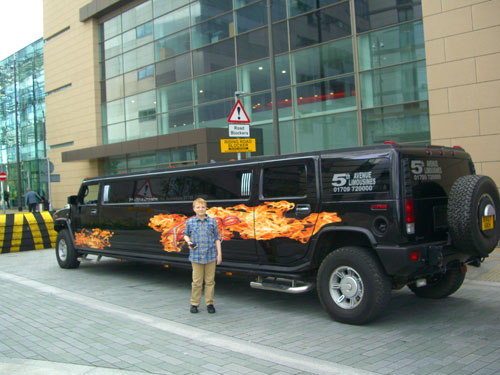 Nathan, who 12 years old and has been battling Acute Lymphoblastic Leukaemia since 2009, was also give the opportunity to ask their guest of the day, Amelia Lilly a question when she was being interviewed. He also won a Simon Cowell mask for singing a one Direction song! After the show Nathan was taken backstage to meet Sam and Mark where he had photo's and autographs. Sam talked quite a long time to Nathan as they both come from the same town! Back in the Hummer he was treated to another bottle of bubbly which he shared at home with his Dad and Sister. It was a magical day for Nathan. Thanks to Helen from CBBC for a very special day.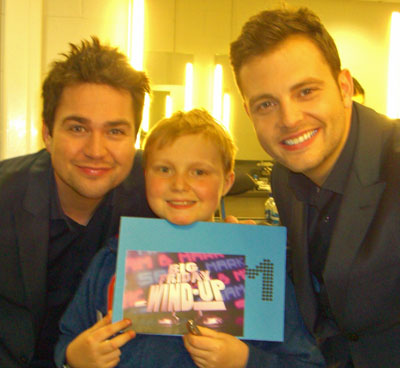 Mum emailed to say:
Nathan asked to be on a tv show, and his favourite shows feature Sam Nixon and Mark Rhodes. When You Wish Upon a Star was able to arrange a trip to the BBC tv studio at Salford to see Sam and Mark in action and get some ideas for Nathan's wish. Nathan was amazed when Barbara whisked him off to the studio in a black Hummer limousine ! He had a brilliant day and may appear on the audience when the show goes out in January. He was excited to meet Sam and Mark in the green room. Thank you very much When You Wish Upon a Star.