3rd December 2012
Johnny-Lee's Wish
When You Wish Upon A Star had arranged for Johnny and his family to go along to the M.E.N Arena to watch the WWE live show, and also appearing was Johnny's hero the legend John Cena.
Little did Johnny know though that WYWUAS had a few more surprises in store!
Kicking Johnny's dream night off in style with his first surprise as a 20ft white Chrysler Limousine cruised down his (very narrow) street, looking for Johnny's address whilst all the neighbours came out of their houses wide eyed and opened mouthed wondering exactly what was going on, (and how the car would ever get out again)!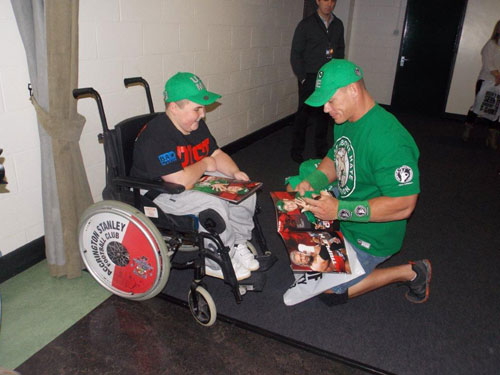 A very surprised happy and beaming Johnny along with his mum and dad made their way in style to meet the 'Wish Fairy' at the M.E.N Arena for Johnny's second surprise of the evening.
Once Johnny had arrived inside the Arena the 'Wish' party were met by an official WWE representative whom hurriedly whisked the party off down and below into the secret bowels of the Arena into a very mysterious room.
Soon all would become clear to a very bewildered looking Johnny as in walked the one and only John Cena, who had a date, to meet a very special young man called Johnny.
Johnny's face was the best picture in the world and in a matter of moments was chatting away to his hero as if they had been friends forever.
Loaded with a signed bag of goodies and having posed for hundreds of pictures with his hero, sadly it was time for Johnny to say goodbye.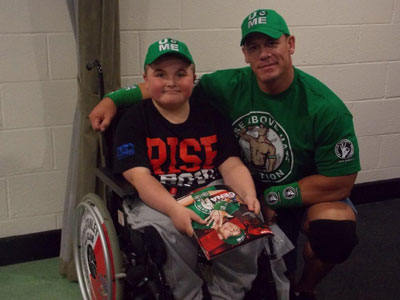 Making their way back up into the Arena to take their seats for the start of the show, Johnny received a further surprise, having expected to be escorted to the disabled seating area, Johnny was instead escorted to his own private box!!.. After feasting on a slap up dinner and reliving every magical moment that had just happened, it was soon 'SHOWTIME'.
Seeing, Johnny excitedly shouting, booing and clapping from the best seats in the Arena for his hero and now 'friend' John Cena, was a very proud moment for Johnny's parents, watching their very brave boy so happy and animated was a very special time for them and certainly a dream come true for them all.
A huge 'THANK YOU' to all our friends at WWE and a special thanks to John Cena from all the 'Wish' Team and your special little friend Johnny M. XxX