4th February 2013
Ethan's Wish
When Ethan was having his chemo treatment, the news that his wish to swim with dolphins was going to be granted, brought a smile to his face! It gave his whole family something really special to look forward to.
The family emailed on their return to tell us all about it and share some lovely photo's!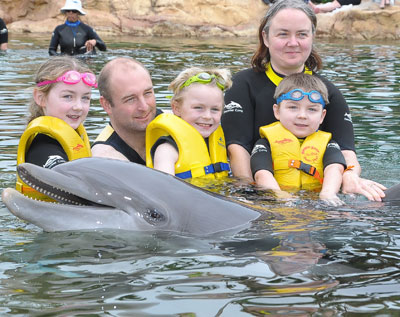 We had the best Christmas we have ever had as a family, and spent a thoroughly relaxing day swimming with the dolphins (and various tropical fish too). The villa was really spacious and the fact that it had a swimming pool was tremendous – the kids went in every day, I think. The kids loved the whole experience – after swimming with dolphins, Aquatica (water park) was Anna's favourite, Ethan liked the roller coasters at the theme parks and Lawrence loved snorkelling with the rays . For us as a family the holiday was a well-needed opportunity to enjoy each other's company after a challenging year. It was certainly a once in a lifetime experience that we won't forget in a hurry. Words can't express the warmth and gratitude we hold for the people who made Ethan's wish come true.