2nd October 2013
Neave's Wish
Neave's wish had finally arrived… driven from Blackpool in a chauffeured sleek black Mercedes a very excited Neave and her mum arrived safely in Manchester at the Phones 4u Arena, where the "Wish Fairy" was waiting to greet them.
Waiting in the foyer of the Arena, along with hundreds of other noisy and excited Paramore fans, it wasn't too long before we got the secret nod, and were escorted down into the underground corridors of the Arena, for Neave's private meet and greet. Nervously awaiting the arrival of the band, it was cameras, autograph books and sharpie pens at the ready.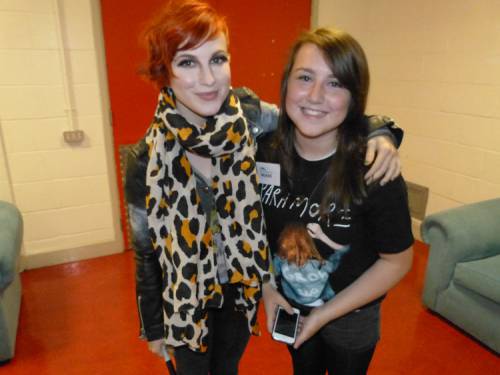 Within moments Neave was hugging the band as though they had been friends forever.. To see Neave's face beaming and laughing with such happiness was sometimes a little too much for her mum, as this was such a huge milestone for the family and a dream that they never thought would be fulfilled,

After a long chat with the band and lots of hugs later, it was time for Neave to say her farewells, not before the band had signed everything in sight though, including her own white Doc Martin boots with the unique Paramore logo and even giving her, a new set of signed drum sticks!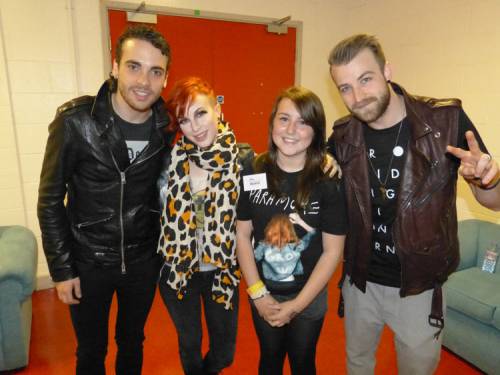 Walking back out into the foyer of the Arena, Neave must have been the proudest girl in all the world, as every fan nudged each other, gasping with envy at her armfuls of goodies that had obviously been signed.
With a huge grin on her face it was off for a slap up meal at the Hard Rock Café, to look over all her priceless signed goodies and photos, before taking her seat to watch her new friends perform live on the stage a little later that evening.
Thank you so much to the Hard Rock Café (Manchester) for treating Neave to a fantastic evening, the lovely Will for making it happen, and of course the fantastic Paramore who were outstandingly kind and gave so much of their precious time, to make Neave's meet and greet so very special. xxx