28th May 2014
Elly's Wish
Brave Elly was sent to Florida to swim with dolphins as her special Wish in April 2014. Imagine her surprise when our Fairy Godmother arrived at her home, with not only her Wish tickets to Florida but with a very special visitor, Richard Whitehead.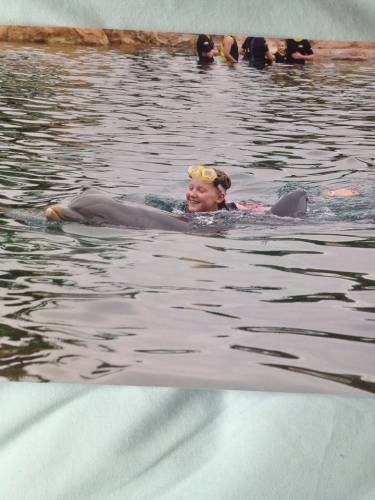 He came along to present Elly with her Wish, to swim with Dolphins. Elly was so surprised and stunned she couldn't speak for a moment. Elly said: "I had no idea Richard was coming – I was absolutely shocked. My jaw just dropped and all I could say was "wow" and I had my hand over my mouth."
Twelve year old Elly who had her leg amputated after a rare form of bone cancer has met her Paralympic hero Richard Whitehead.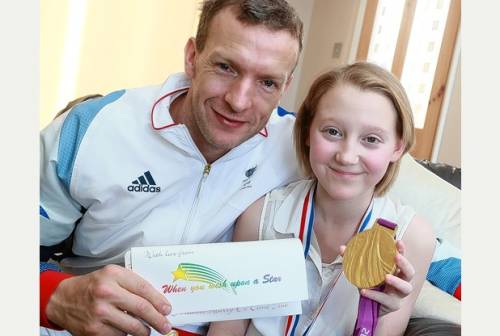 Elly is a really keen swimmer and watching Richard's 2012 success from her hospital bed and his performances inspired her to compete in the pool. She competes in the English Federation of Disability Sport's National Championships and also with able-bodied swimmers her age at Bramcote Swimming Club. She watched Richard on celebrity TV diving show Splash and is now tempted to try the sport herself.
Richard, who went to Lapland with the charity in 2012, has recently become a patron of When You Wish Upon a Star. Born in Nottingham, he holds the world record for athletes with a double amputation in both half and full Marathons. He won gold at the London 2012 Paralympics for the 200 metres. His earlier career was a swimming teacher, he is a former ice sledge hockey player, and competed for the GB team at the 2006 Winter Paralympics in Turin. "When I heard Elly's story and that she wanted to go to the Paralympics in 2020 it made me want to come and see her. I'm planning on doing one more Paralympics and after that I want Elly to be one of the people taking over the mantle." he said.
When asked about her wish of swimming with dolphins she said, "It's just going to be amazing; I can't wait for all the tricks. They're really playful and I love swimming so it's my dream come true. I think you're supposed to kiss them too – although it might be a bit smelly!" beamed Elly.
We are delighted that Elly and her family had an amazing time in Florida and would like to thank all of our dedicated supporters for making this precious Wish happen. Elly's mum sent us this lovely message on their return to the UK. "Wow, what a fantastic holiday we have had, When you wish upon a star sure made Ellys dream come true swimming with dolphins, we can't thank you enough for making Elly dream to swim with dolphins and Florida come true, we have made so many happy memories to treasure. We would like to thank all the donations that made our holiday come true."