23rd July 2014
George's Wish
I was excited on Sunday 13 July as it was time for my VIP trip to RIAT which Barbara at When You Wish Upon a Star had very kindly set up for me. I put on my Red Arrows flying suit before I went so I would look like a pilot.

When we got there it was very noisy as there were some jets already doing their flying displays they looked really good. We went to the guest enclosure where we saw an apache helicopter flying doing a pretend attack it was really loud. Then it was time for a surprise, I got to meet The Red Arrows in person.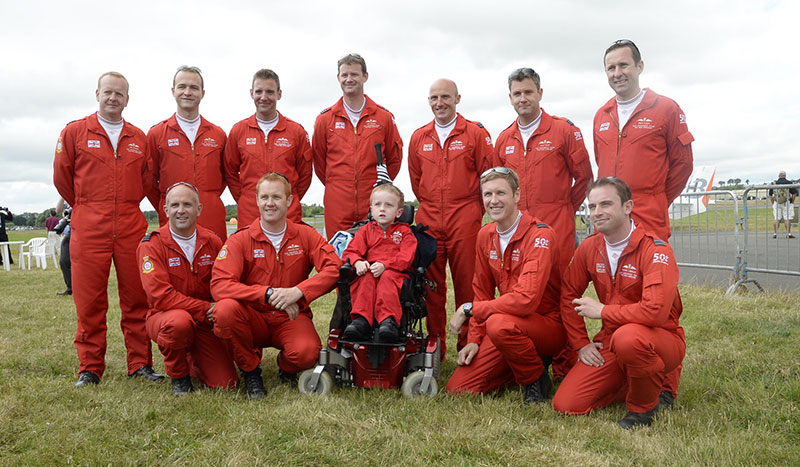 We went into the enclosure and the Red Arrows pilots all came to say hello to me and I got to have my photo taken with them.
There were lots of people taking photos of me and it was all very exciting. Then the pilots all signed my flying suit and gave me a signed cap and photo of them. They also gave me an extra special gift of a dog tag with my name on.
I felt very lucky as not everyone gets to meet the Red Arrows and it was their 50th anniversary which made it even more special. After meeting the Red Arrows we went to have a look a some of the other planes that were at the show.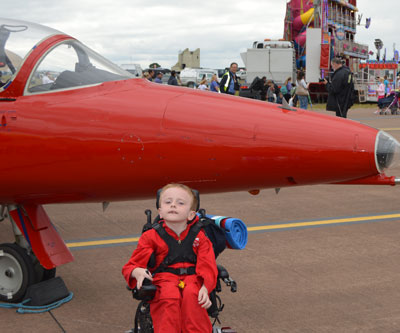 I got up very close to lots of planes and helicopters and even got to sit inside some of them. I met lots of pilots from different countries who gave me badges from their flying suits and stickers I couldnt believe how lucky I was and everyone was really friendly and had their photos taken with me. I got to see a chinook doing its flying display it was really good.
Then we saw the Red Arrows doing their flying display that was really cool with the red, white and blue smoke.
When we were looking around at the show we met a lady who said she helps get people with disabilities learning to fly planes, I thought that would be really fun to do when I am older. I had a really fun time at RIAT and even though I was very tired at the end of the day (I had been driving all day in my chair!) I was still really excited I didnt want to go to sleep.
THANK YOU Barbara and When You Wish Upon a Star for making this a very special day for me I will never forget it. George Holmes V.I.P aged 6.