4th June 2015
Jade's Wish
On the 6th of April we sent Jade and her family all the way to Hollywood, in sunny LA, to meet her favourite characters from Teen Wolf and get an exclusive peak behind the scenes!
Here's what Jade wrote about her holiday:
From the moment I found out we could go, I was extremely excited but when we arrived at the airport my excitement doubled which I didn't even know was possible. I couldn't wait to get on the plane. The plane was nice and the staff looked after us really well and kept us well fed and watered, the whole journey. I was counting down the time until we arrived and I was bouncing around when we landed. My excitement grew even more. We went through customs and collected our bags. We caught a bus to the car rental and got the car. After this we drove to the hotel, it was amazing as we drove though the city, I was amazed at how different it was to the U.K and how big everything was, I just loved it. When we arrived at the hotel, the sight in front of us was amazing. The hotel was gorgeous. We signed in and went and found our room, which was beautiful and spacious. We unpacked and went for a meal.
Once we woke up in the morning we went down to breakfast, then went to get some shopping for the room as It had its own little fridge. We found a supermarket and then decided to go for a drive. We drove down Sunset Blvd, Hollywood Blvd and Rodeo Drive. We ended up getting out on Hollywood Blvd and walked down the street looking at all the celebrities stars and popping in and out of shops. I found it all amazing, I couldn't stop smiling. After a wander around, we went back to the hotel and went for a swim in the pool and had a couple of drinks by the poolside bar.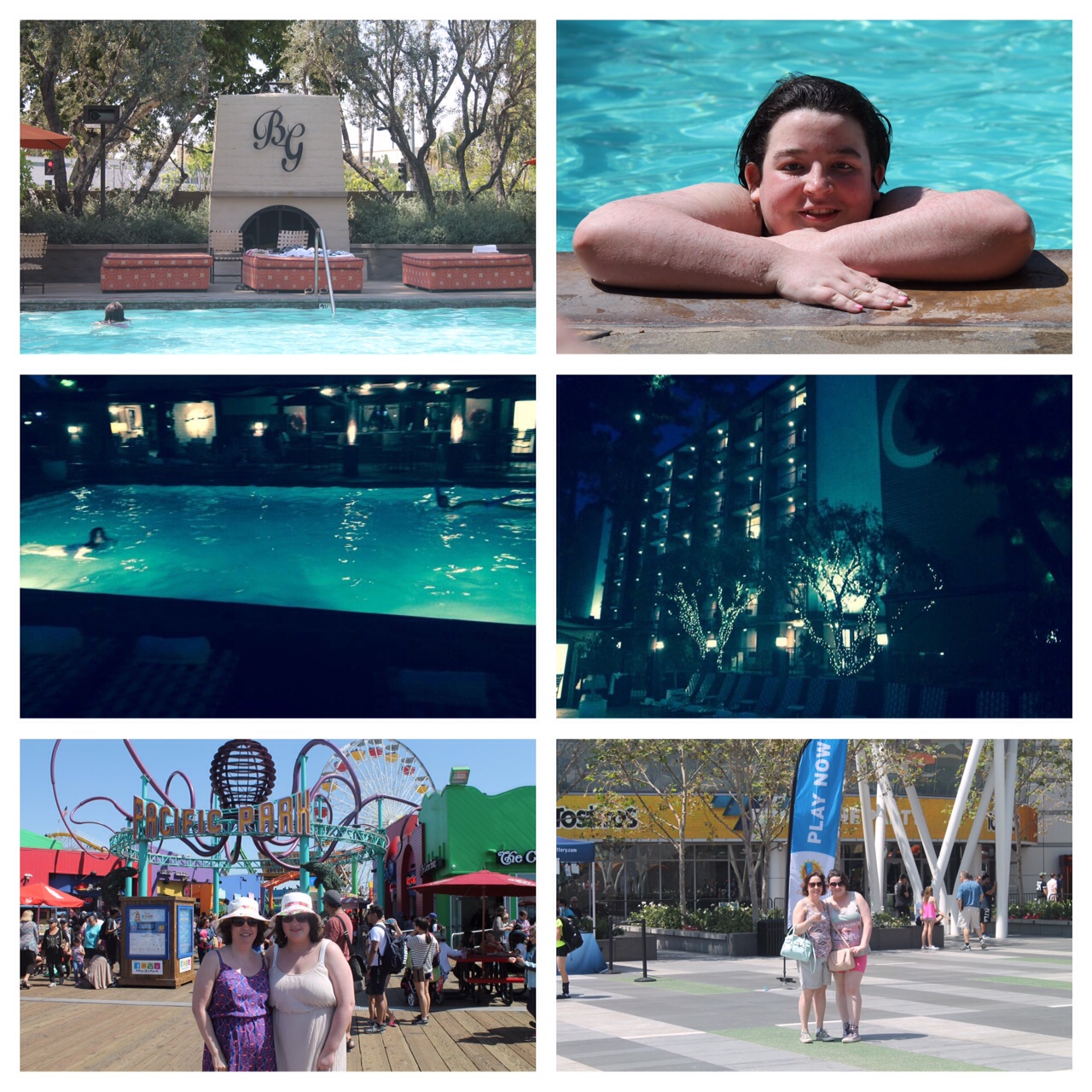 The next day we decided to go to Universal Studios. We had some breakfast and went down to the lobby. The hotel had a trolley that went from the hotel to Universal Studios, so we jumped on and enjoyed the ride. Once we got there we were amazed at the amount of people that were there and then we made our way inside the gates. We wondered through not knowing what to look at first so we decided to start at the bottom lot and work up. There was escalators going up and down and as you rode them, there was music from the movies which were made at Universal, like Minions and Pitch Perfect. When we got down to the bottom lot we went on the Transformers ride first. It made me smile as the staff at that ride we dressed like the characters on the movie, which was the same for all the rides. The ride was amazing. We then went to the Jurassic park ride. I sat on the edge of the cart and got wet. After this we went back up to the top lot and went on the studio tour. The site was massive and we only got to see some of it. We saw things like Jaws, King Kong and much, much more. After this we grabbed a bite to eat and went to see the special effects show, which was very interesting. After this we went to the minion ride,and then Shrek and finished off the day with the Waterworld show. Before we left we got some food to have later and went back to the hotel and spent some time by the pool. Swimming at night illuminated by all their fairy lights was so much fun.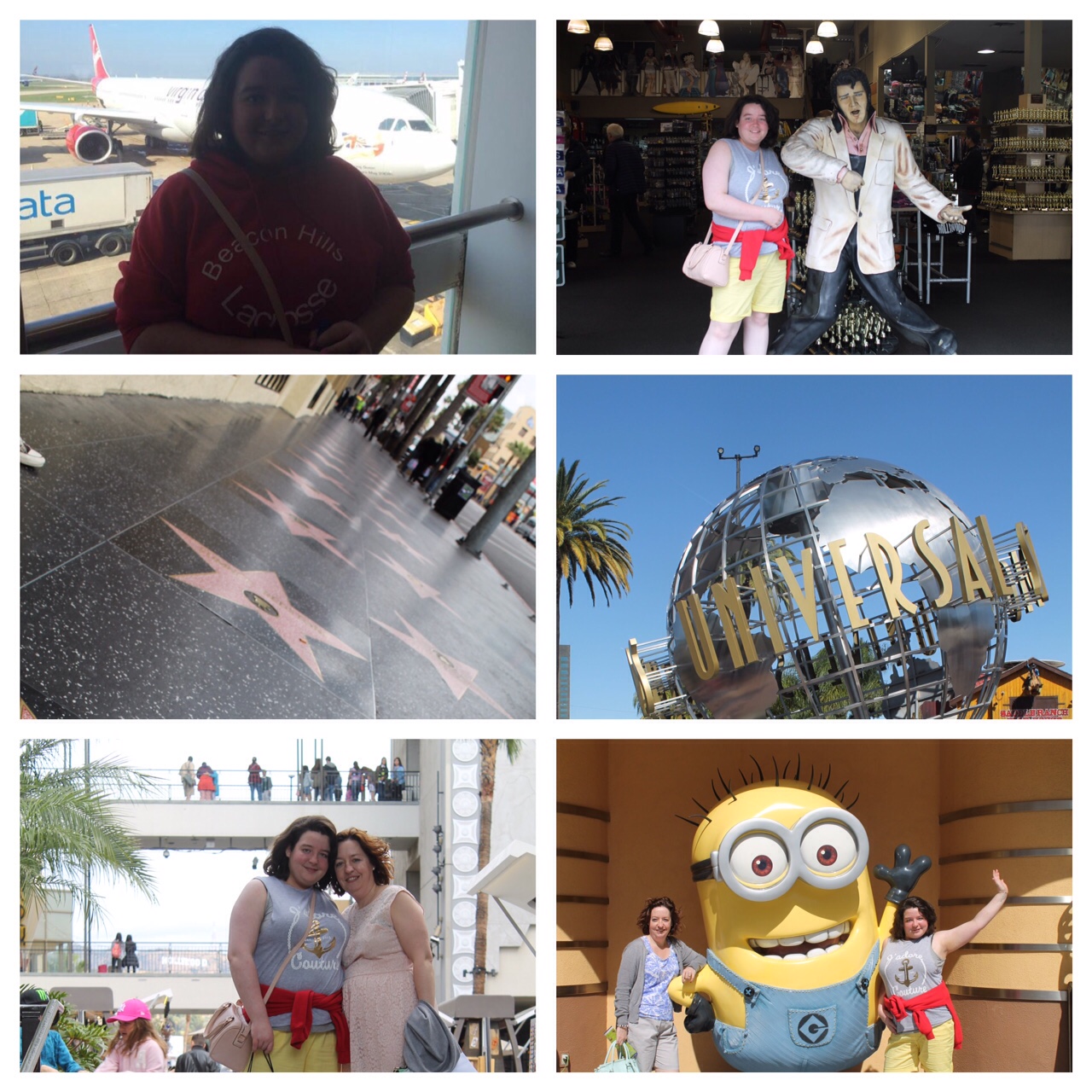 Then next morning we went down to Santa Monica beach. We parked up and then walked down onto the pier. The pier was full of people and was really beautiful to walk down. Looking out from the pier the scene was beautiful, a beautiful sunny sky, golden sands and a clear blue sea. We walked down along the beach and all the way up to Venice beach. We carried on walking down until we reached Muscle beach (which while we were there we had to see) and had a rest. We started walking back down and then got on a bike trailer which took us back to the pier.
The next day we want for a drive as we needed some little things for the room and decided to park up and walk down rodeo drive. We went into Giorgio Armani, Prada, Gucci and Jimmy Choo. The street was amazing but we should of been walking down there in a posh dress and heels but it was amazing all the same. After we went to the pool and spent the rest of the day by the pool swimming and catching the sun.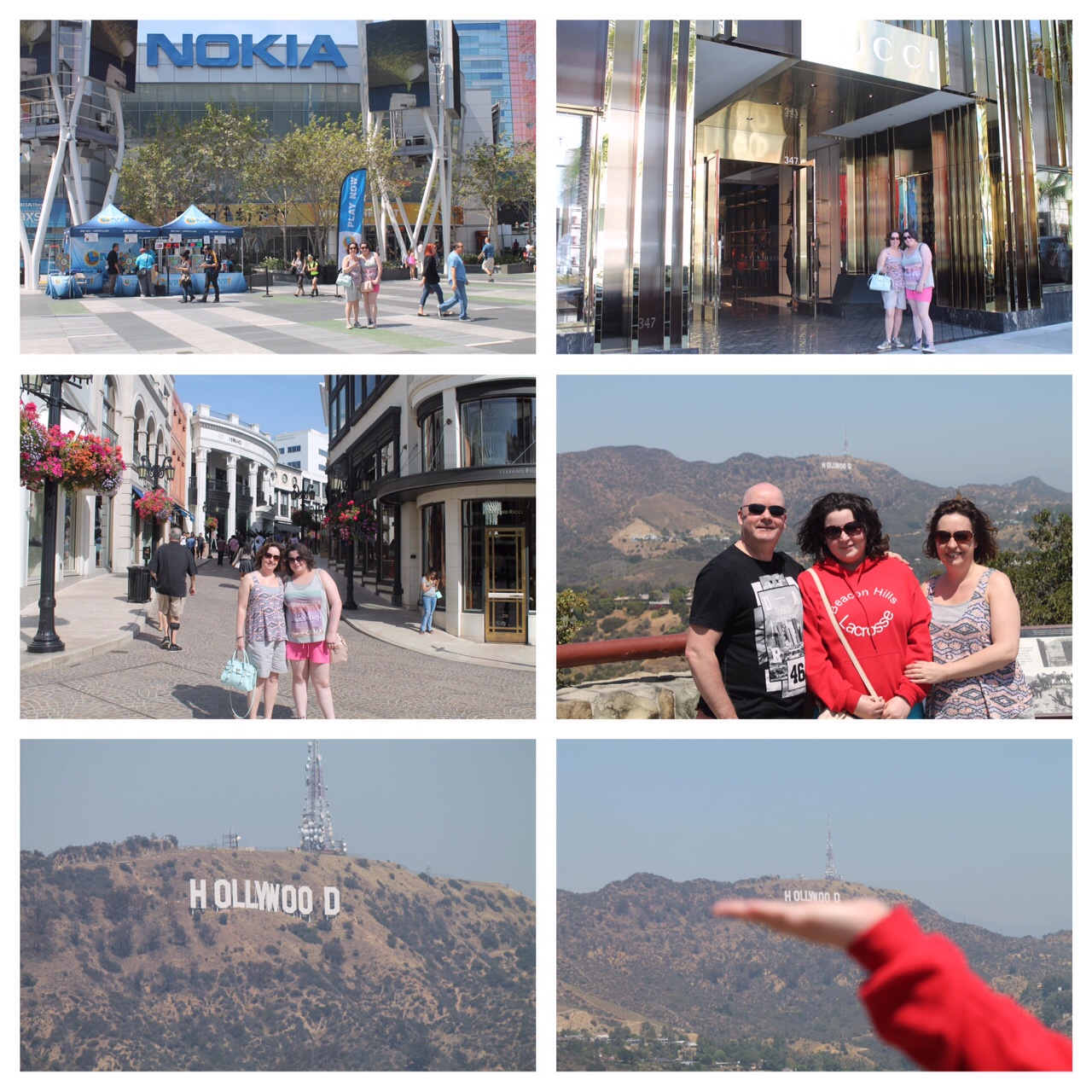 The next day we went to downtown LA to pick up the Movie award tickets. We spent a lot of time just wandering around that area, seeing what was around. We then went to the pool side and chilled with a drink.
On Sunday we spent the morning getting ready for the Movie awards in the afternoon. We went to the Nokia centre, got a drink and then found our seats. The site was absolutely amazing. The award ceremony was really cool and we saw loads of celebrities, who we love, it was fantastically amazing. After the super show we went to a restaurant outside the Nokia theatre and while we waited to be seated, saw some vine stars who I follow on vine and are really famous. It was an absolutely super night.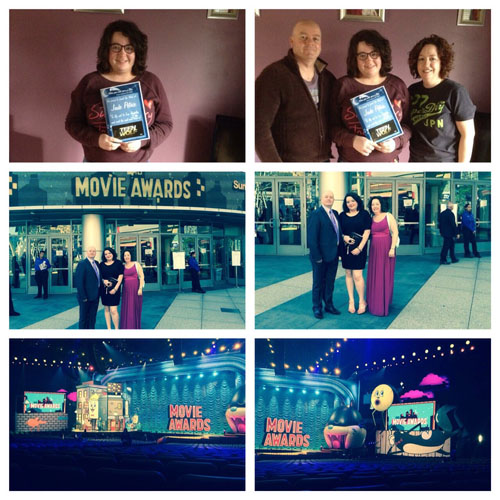 This next day was my favourite by far. This was the day we went to see Teen Wolf!! AHHHH!!!! We got up and drove over to North ridge. We got there quite early, so we did a bit of shopping and then had a picnic in the park. We park outside their studio and I was so nervous but also so excited. We went over to the door and Matt met us there. We gave him his wine and he took us through to start the tour. We started by walking though the offices and saw some of the set floor plans. We then went through to the dressing room and through to the costume department. It was packed full of clothing. The main characters had their own clothes rail each and hanging on the front was the clothing you first saw them in. It was really cool to see the clothing in real life. They also had things like villains clothing and the sports jerseys. On one wall they had all the main characters jerseys hanging there. They also had the necklace and archery glove of one of the characters that had died. We then went to the special effects department and saw things like the werewolf make-up and some of the villains like the nogitsune and the new villains, the dread doctors. After this went to see all the sets. The old and new ones and Matt tested us to see if we knew what each set was. He said they used old sets that they didn't need anymore and reused them to make new sets, so he tested us to see if we knew what the set used to be and we got them all right, he was really impressed.
We then came to a bit where two of the boys ( Tyler Posey aka Scott McCall and Dylan O'Brien aka Stiles Stilinski) were filming a bit and we stood and watched for a while. Matt then took us back through the offices and as we went through he was showing us some of the fan art that they were sent and have framed, it was amazing. We then drove to another place where they had more sets and we did they same as before. I loved looking around the set and being able to see it all up close and seeing all the detail that is put into them. It was really cool to that they had put pictures of the cast when they were younger as part of their character set like In the bedroom and houses.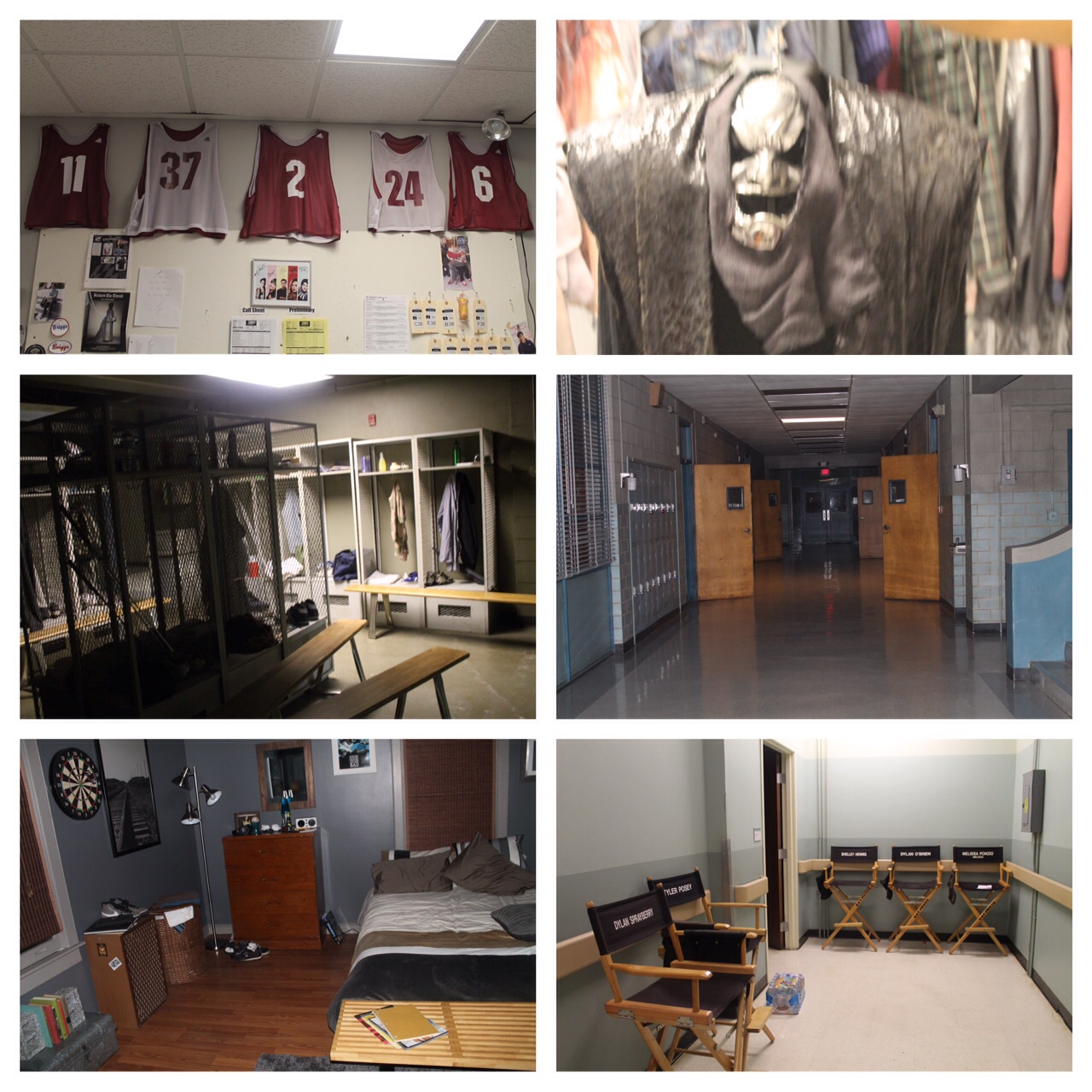 When we came back they had finished filming the bit we had been watching earlier and was doing a rehearsal for the next part they were going to film. While we were standing there we got to meet Jeff Davis who is the creator and it was just soooo amazing. They had done a couple of rehearsals when one of the boys (Tyler Posey) had spotted us and smiled and messed around to make us laugh. They then went though a couple more times and then had to go and get changed but not before the one who had made us laugh (Tyler) came running back to tell us they were just going to get changed, gave me a hug and then said they would be right back. We were then taken into one of the classroom so we weren't in the shot. We stood there for a bit when Dylan and Tyler came bounding back in and came straight over to us and me and mum got a hug from both of them. They had to go and do a bit of filming. While they were filming to begin with I was sat in the school chairs, then one of the writer/directors invited me to sit in the directors chairs and gave me a set of headphones so I could listen to what they were saying. After they had done a bit Tyler, Dylan and Arden Cho ( Kira Yukimura ) came and sat down and just talked it was extraordinary. They were so relaxed and they were so down to earth and we just talked casually. I felt really special and like I was the only person that mattered because they paid so much attention and weren't distracted at all. It was the best feeling in the world. They went to do some more filming but not before I got some more hugs for Tyler.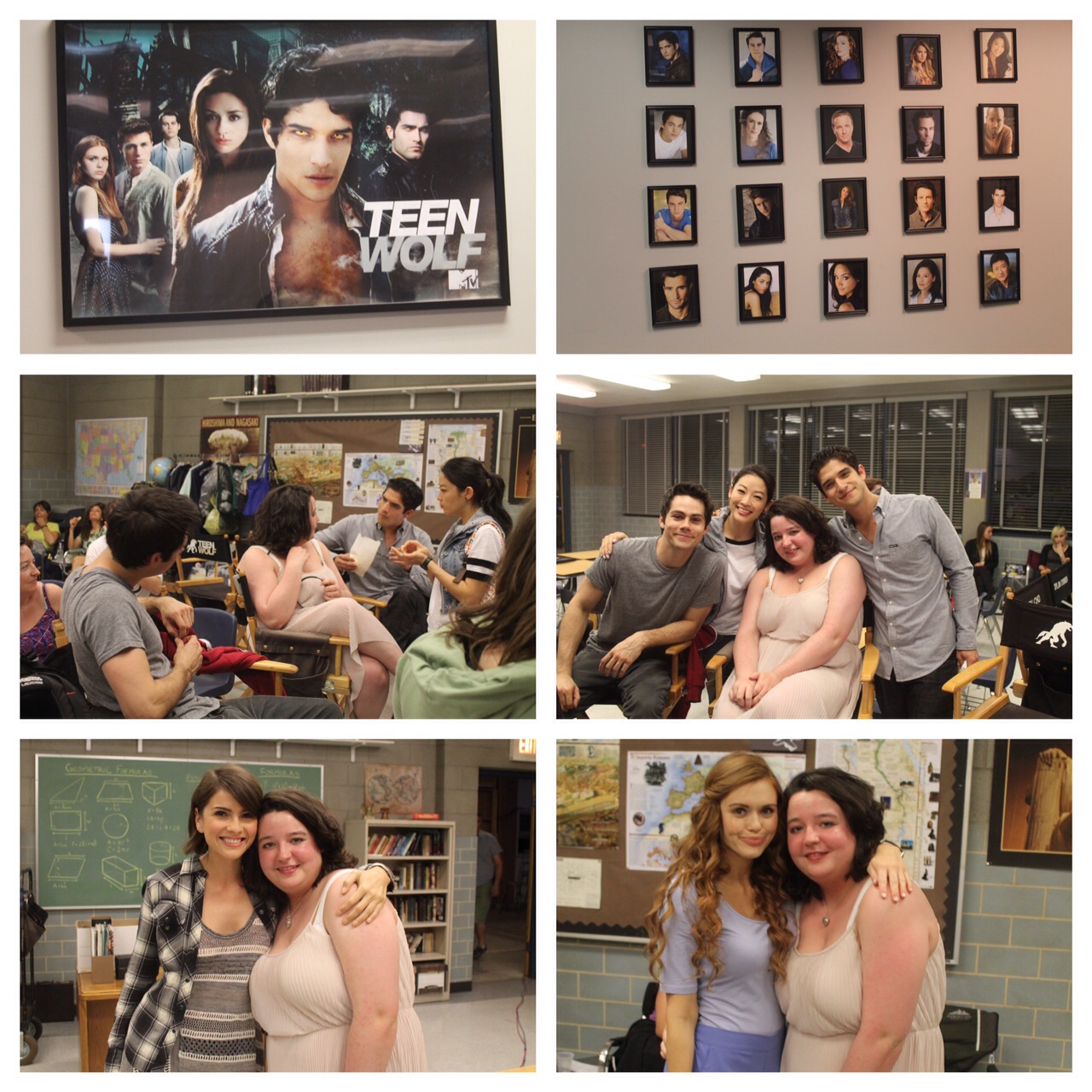 After they finished that bit they went to get changed and Arden came back in and I asked if she could sign my book and she took it with her and got the boys to sign it too. We then went to watch some rehearsals and met one of the other cast members. (Shelley Hennig aka Malia Hale) and we all got hugs and she also signed my book. Later on while they were filming Holland Roden ( aka Lydia Martin) came in and I got a hug and she also signed the book. We watched a bit more of the filming and then left saying thank you to everyone for everything they had done for us.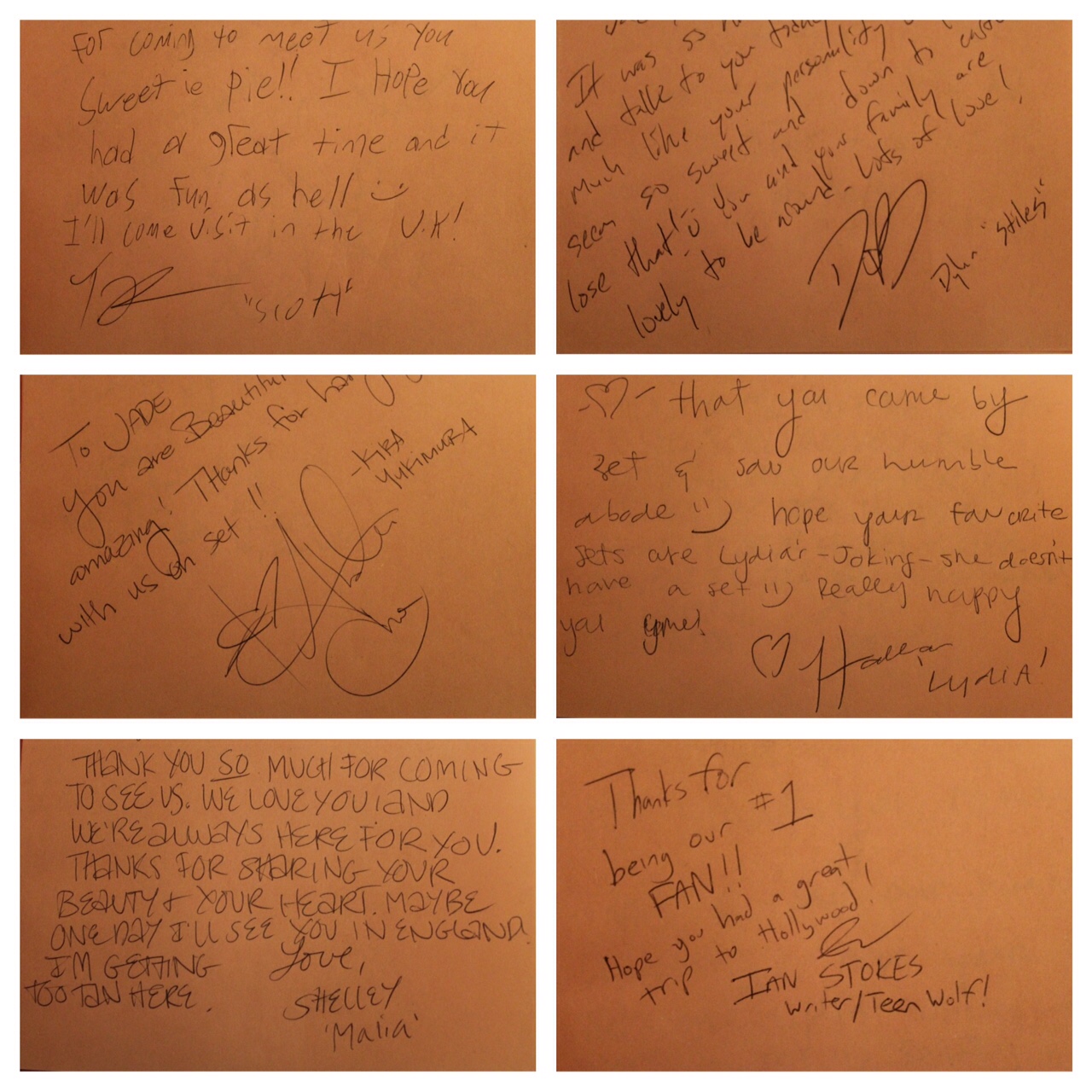 It was the most extraordinary thing I have ever done and I loved every second. I have had my dream and could not wish for anymore. It will forever be in my memory and will be something I will never forget.
Earlier In the day I had a couple of pictures with Arden and she had asked us to send them to her. So we sent a picture and we sent some to the others. Later on Shelley had put the picture on her wall and so had Arden and she had commented on the picture which was lovely. She was then talking to dad on private message and she asked him to send the pictures in Hd through email and she put some of them on. This also made me feel really special because they also put a lovely caption.
The next day we went to Universal Studios again as we had a two day pass and did what we did before and a couple of things we missed.
In the last day because we didn't need to be at the airport until 7pm and we had to be out of the hotel by 12pm we decided to go to Malibu. On the way there we drove past Warner Bros studios and took some pictures and then headed to Malibu beach. On the way while we were on the freeway, we saw a car that had a number plate that said 'B Pitt'. As a joke dad said I wonder who's in there. So he sped up so we were along side the car and looked into the window and it was Brad Pitt. So dad sped up and then slowed down and I took a sneaky picture but I think he saw. Dad sped and slowed again, dad put his hand up to him and Brad smiled and gave him a peace sign. We then turned off and he carried on. We walked down some of the Malibu beaches and the took the coastal road toward Venice Beach. While we were in Venice Beach we went into the Cheesecake Factory. We had a little snack and then had some cheesecake. It was lovely and we had a lovely view from our seats. After this we walked down the beach and sat and rested. Afterward we took the car back to the rental place and caught the bus to the airport. They looked after us on the way back as well as they did on the way out.
"No day ends if it makes a memory"
And our LA trip definitely made a everlasting memory that will stay with me for the rest of my life. It as a life changing trip and I can't thank any of you enough for what you did to make it all happen. It was the greatest experience of my life. It meant the absolute world to me and I loved absolutely every millisecond of it. Thank you so so so so much for making my dream come true.
Jade