Edinburgh Santa Fun Run & Walk 2021
We are BACK! West Princes Street Gardens in Edinburgh is ready to welcome our Santa's, Elves and Santa Paws back for our much loved family fundraising event!

Sunday 5th December 2021
Registration NOW open just follow the link below to sign up to help grant magical Wishes!
Click here to register for the Santa Fun Run & Walk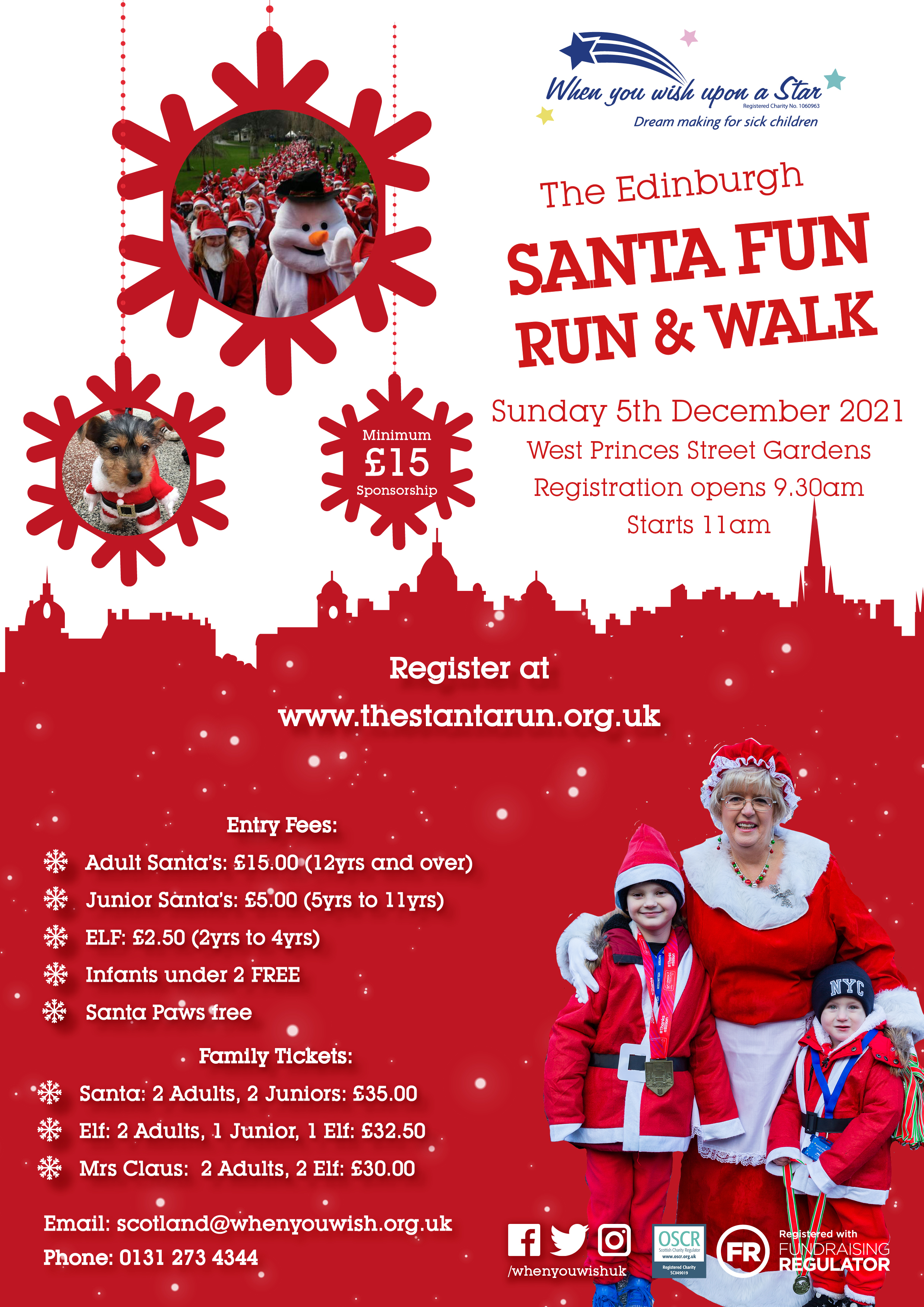 Santa Run events are not just a great day out for family, friends and colleagues to dress up as Santa on a crisp Winter's morning and take on 2.5km of West Princes Street Gardens, but they are also a great way for you to fundraise for a worthwhile cause.
All money raised from the Edinburgh Santa Fun Run & Walk will be used to help fund Wishes creating the most magical of memories for our Wish children throughout Scotland who are aged 4-16 and who live with a life threatening illness.
This year we will be asking for all Adult Santa's to raise a minimum sponsorship of £15! And as a way of saying Thank You, for £15 you raise your name will be put into our Santa Run draw, where you have the chance to win a weeks stay at Hengar Manor in our luxury 4 bedroomed, Scandinavian style lodge, which can sleep up to 8 people and is situated near Bodmin, Cornwall. T&C apply
Final day for fundraising 12th January 2022 / Santa Draw will be done 16th January 2022
We are very excited to welcome you all back to Scotland's Capital!
Click here to register for the Santa Fun Run & Walk

For more information contact the Scotland office:
Scotland@whenyouwish.org.uk
0131 273 4344