30th April 2022
Isle of Wight Challenge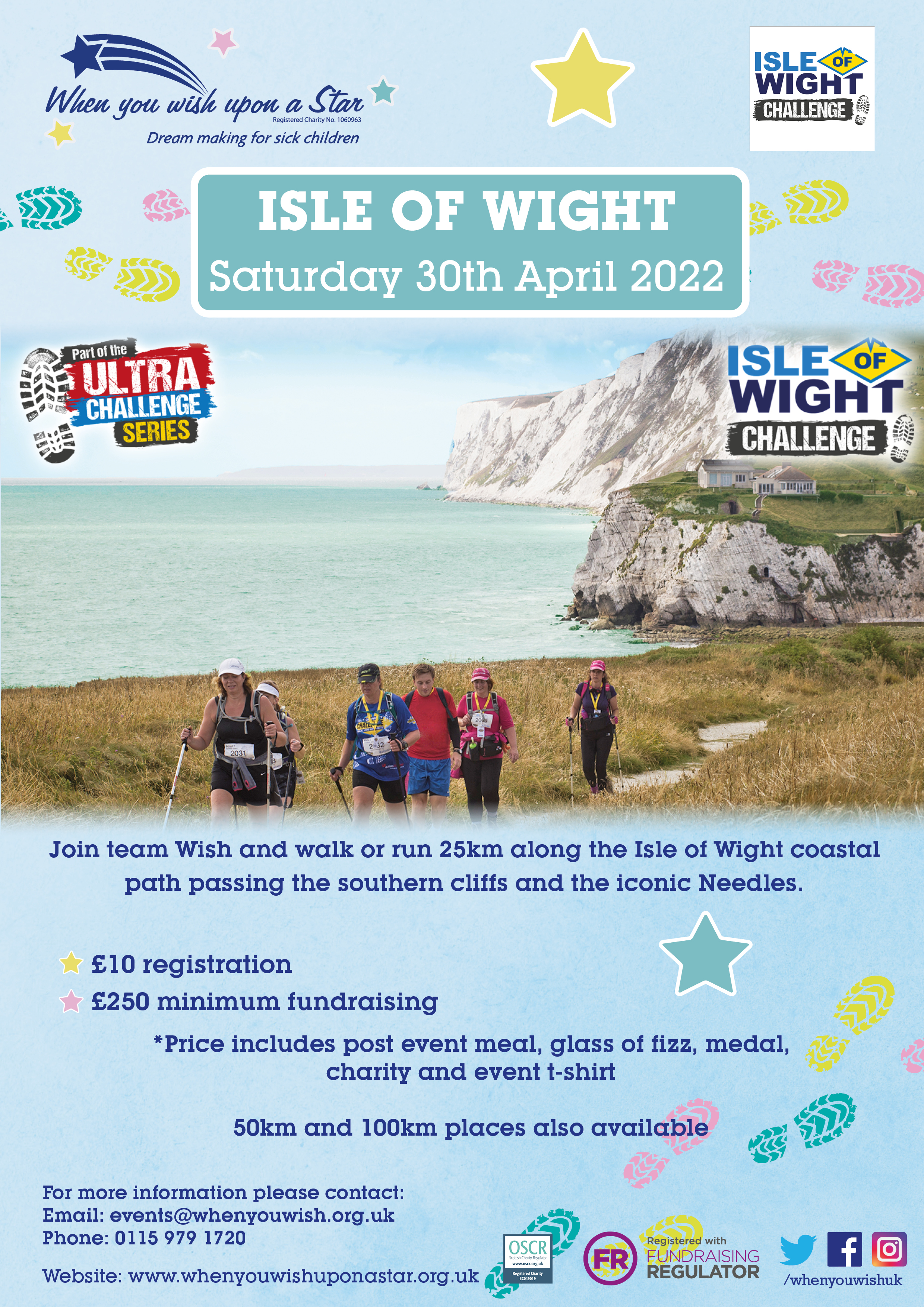 Great Challenges need great settings!
2000 adventurers of all experience levels will walk, jog or run the stunning coastal path of the Isle of Wight in 2022 and challenge themselves to step outside their comfort zone to push themselves further! Taking in the spectacular Southern cliffs, passing the iconic Needles and up to the half way point at the historic Cowes!
For full Island challengers it's then onto Ventor and back to the welcome base camp in Chale after an epic 106km journey! The event also offers quarter and half island challenges as well with full hospitality all the way there is something for everyone!

Your entry includes free food and drink at regular rest stops, plus support including medics, marshals and massage. As you cross the finish line, you'll get a glass of fizz, t-shirt, and a medal to commemorate your achievement.

SIGN UP & FUNDRAISING OPTIONS:
1. Charity Sponsorship – pay a small registration fee, do lots of fundraising and we cover the cost of your event place!
• 25km: Reg fee £10 / fundraising target £250

2. Mixed Funding – pay half of the event place cost yourself, fundraise a bit less and we pay the balance of the event place cost.
• 25km: Reg fee £45 / fundraising target £135

3. Self Fund – pay the full cost of the event place - fundraise whatever you want, with no set target or deadline, and there's no cost at all to the charity!
• 25km: Reg fee £79

For full details of prices and to sign up:
https://www.ultrachallenge.com/isle-of-wight-challenge
For further information
Event Contact Number: 0115 979 1720
Event Contact Email: events@whenyouwish.org.uk