No specific date
Superhero Wish Walk
Calling all Superheroes…will you answer the call to grant a Wish?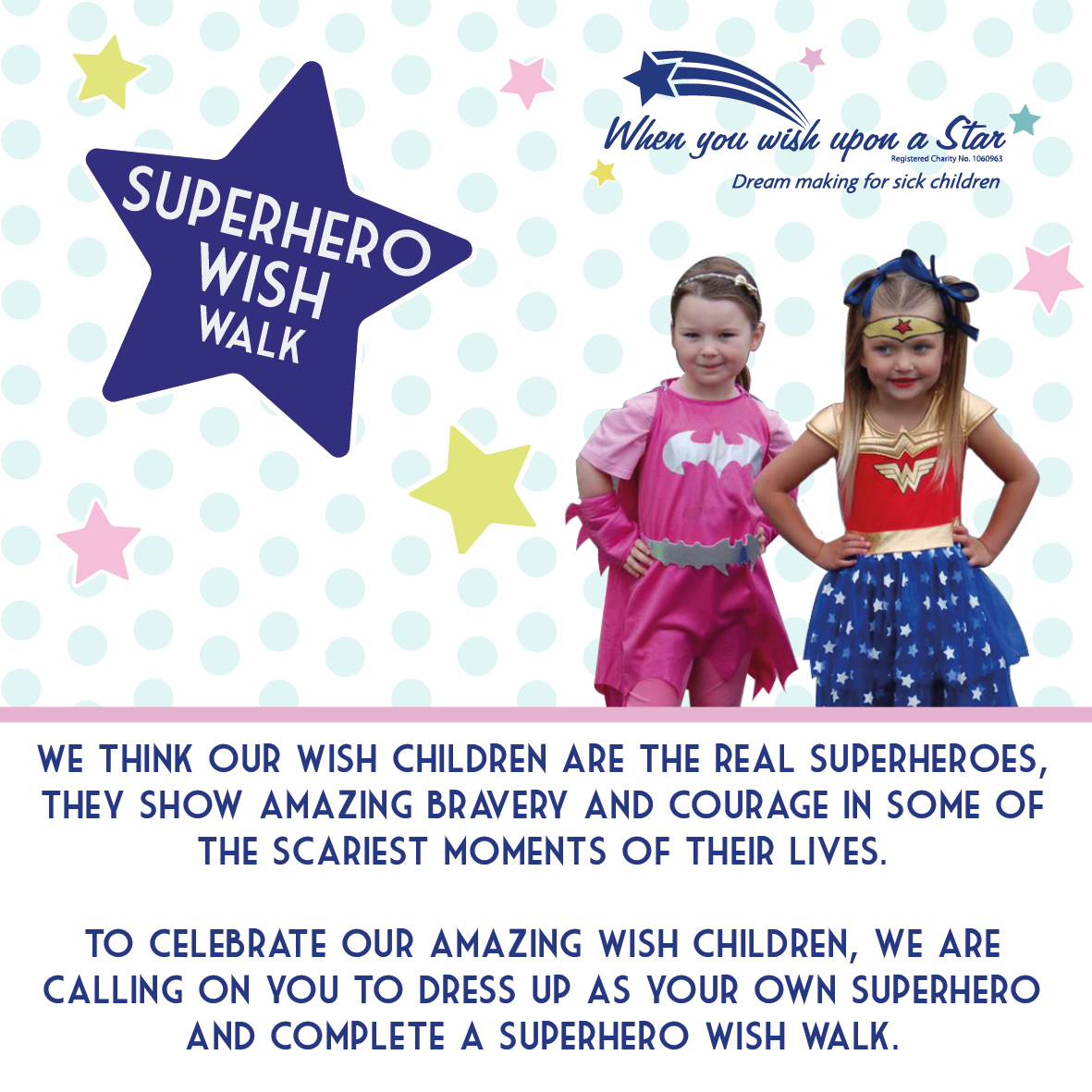 Join our Wish Superheroes across the UK and complete your Superhero Wish Walk.
Choose a time and day that's convenient to you, whether it's a 2k walk in the hills or a 5k doing laps in your garden or local park, every step you take will help to grant Wishes for our Superhero Wish children who live with life threatening illnesses.
As part of the challenge, we are encouraging our Wish Walkers to dress up as their own Superheroes, whether this is a real life Superhero, such as a parent, friend or sports star, or a Superhero character, such as Batman or Wonder Woman whilst fundraising for magical Wishes.
How do you answer the Wish call?
Click the link below to download the Fundraising Pack
Superhero Wish Walk Fundraising Pack
Decide on a day, time & distance
Contact our fundraising team to let us know
Fundraising@whenyouwish.org.uk
Set up your Superhero Just Giving page with a minimum target of £10 to grant a Superhero Wish
www.justgiving.com/whenyouwish/donate
On the day of your Wish Walk
"Make your own mask" from our Fundraising Pack
Share your pictures by tagging over socials @WhenYouWishUK & using the hashtag #superherowishwalk
We believe our Wish Children are real life Superheroes
They face struggles that many of us simply cannot image, and they face their daily fight with incredible strength and bravery. With every step you take on our Superhero Wish Walk, and every penny you raise, you will help to grant not just a Wish, but a magical memory that will be treasured forever, and help a Wish Child and their family get through their most difficult moments.
For more information on our Superhero Wish Walk please contact our Regional teams!
fundraising@whenyouwish.org.uk
Midlands & South: 0115 979 1720
North West: 01663 766 744
Lincs & Yorks: 07918850931
Scotland: 0131 273 4344