19th December 2012
Manchester 2012
At 5am on Wednesday morning, 102 children arrived at Manchester Airport to the beautiful voices of the airport's very own choir.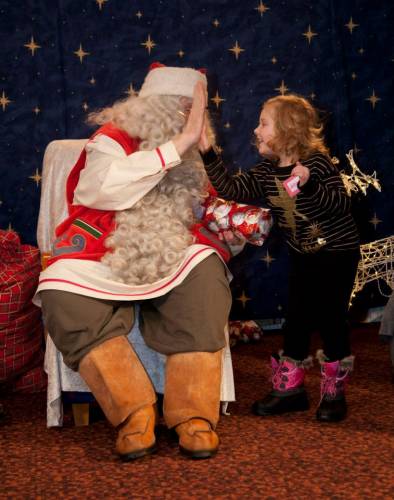 Very visible were mascots Moonchester and Fred the Red, Disney Characters, 10ft toy soldiers on stilts, Cracker the new mascot from Greater Manchester Fire and Rescue, Eddie the Edgehog, and all the characters from Gulliver's World who all came to wave the children off for their very special flight to Lapland. The children were greeted and personally welcomed aboard by pilot Captain Kirk.
-19 degrees didn't deter the children one little bit as they arrived at the frozen, snowy 'Enchanted Forest' in Rovaniemi. They were all soon bombing down the ice slides, driving the skidoos, and shrieking at the high speed of the husky rides, and being gently pulled along by beautiful reindeer on their sleigh. After hot chocolate, toasted marshmallows and sausages around the roaring fire, it was time for a few Christmassy lullabies from Sue Cleaver, Richard Arnold, Will Mellor, Nikki Sanderson, Rachel Shenton, Karen Hassan, Iain Stirling, Heidi Range, Saracen, Tricia Penrose and Marcus Collins and Jade Ellis.. ahhhh!!
The most magical part of the day is watching all the children sitting on Santa's knee, excitedly whispering their Christmas list, as parents proudly watched with a huge smile, and always an escaping tear, as their child receives their very special gift from Santa..
After a visit to Santa's village, and lots of presents bought for all the loved ones back home, it was time to say goodbye to the magical home of Santa and the very beautiful snowy Lapland.
Wow, what a truly fantastic day! The Northwest 'Wish' team would like to thank all our amazing and dedicated volunteers and medics, who give up their time and skills every year, to make this magical trip possible. Together we believe that wishes can come true, and make faces light up, smiles are priceless, and last forever.
Thank you to all our amazing parents for sharing your very inspirational and adorable children with us, and helping us create such a memorable and magical day