14th February 2018
Trentbarton Donate £24,768
Bus drivers and colleagues from Trentbarton have raised almost £25,000 for When You Wish Upon a Star.

The staff and customers at Trentbarton picked us as their charity of the year for 2016 and again in 2017.
With the last of the fundraising now finished, the grand total raised is £24,768.
What an outstanding donation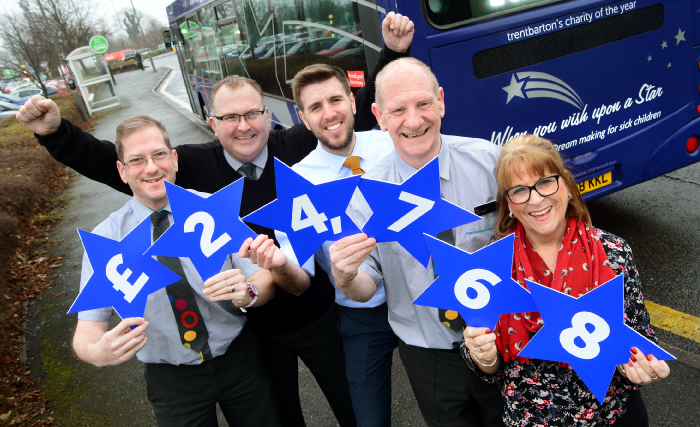 As well as many other fundraising activities, Trentbarton's namesake initiative, which sees buses named after loved ones for £100 or more, also contributed to the fundraising with £2,400 donated.
Jeff Counsell, MD at Trentbarton, says: "It's been an incredible two years of partnership with
When You Wish Upon a Star.
"It's a marvellous charity doing magical work and it is no surprise that our staff have been generous with their time and energy to enable more and more wishes to be granted."
Nicola Brien, Corporate Fundraiser for the charity, says: "It's been such a pleasure to work with Trentbarton we are thrilled and can't thank them enough for their incredible efforts throughout our partnership, helping us to continue making wishes come true."
If you would like to help us fundraise in 2018 please contact our fundraising team by calling 01159-791720 or emailing fundraising@whenyouwish.org.uk