20th March 2012
Dan's Wish
8 year old Dan rode 15 different Rollercoasters over 30 times! Dan was diagnosed in April 0f 2008 with Acute Lymphoblastic Leukaemia and received three years of chemotherapy treatment.

In June 2011, on completion of Dan's treatment, When You Wish Upon a Star received a letter to see if we were able to grant his Wish to visit Disney World, Florida with his family.
We were delighted to be able to assist and the family jetted off in February 2012.
Many thanks to Pulse Associates who sponsored Dan's Wish, the challenge team have raised approx £7,000 to date, taking on many challenges and are currently training for the Coast to Coast Cycle Challenge this summer.
Simon, Sam, Dan & Matt
Where to start, first of all, a massive "Thank You" from all of us for granting Dan's 'wish' and sending us to Orlando where we had a truly brilliant time. We all spent many days and weeks enjoying the excitement of looking forward to what was our first proper holiday for several years, but that was nothing compared to the enjoyment of the holiday itself.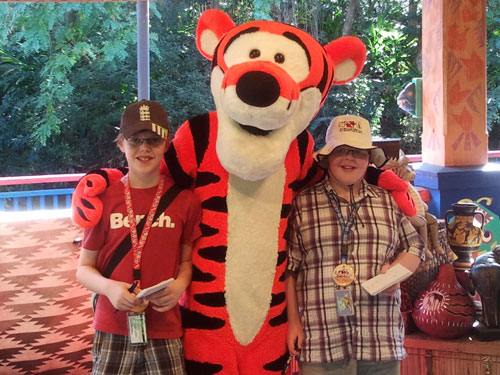 We made the absolute most of all the Park tickets that you kindly organised for us, making sure that we were up early almost every day and ensuring that the generosity of "Compassion Partners" was well and truly appreciated. Whilst Dan's main reason for wanting to go was to see "the real Mickey" (apparently the one in Paris is only a man in a suit!) and Matt was more than happy just to be going along, it transpired that 8 year old Dan's highlight was the 15 different rollercoasters that he rode over 30 times, whilst 11 year old Matt really enjoyed himself by meeting all the 'characters' and being a kid away from the pressures of growing up - something which highlighted to us how much he has missed out over the last few years whilst Dan has been in and out of hospital.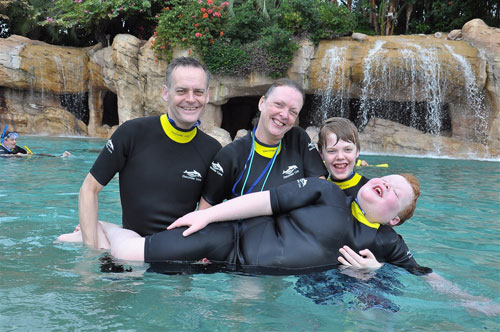 So, what did we do?
Disney's Animal Kingdom - the Jungle tour, a couple of shows and Everest rollercoaster
Universal Studios - Simpsons ride, ET Ride, Men in Black ride and 2 rollercoasters
Islands of Adventure - lost Dan's glasses on the Harry Potter ride (luckily got them back the next day!), several rollercoasters and the kids really enjoyed "Dr Seuss Land"
Epcot - both boys really loved "Test Track" and the fireworks/light show at night was great
Busch Gardens - probably our favourite place along with Sea World. A really great day, the park was empty, Dan and I rode all 6 rollercoasters and Sam and Matt did all the animal shows.
Sea World - brilliant park, we all loved all the whale, dolphin shows and the Manta rollercoaster was Dan's favourite of all.We even went back for a second visit when we had a few hours free before flying home.
Blizzard Beach - bit too cold for me and, no, none of us were mad enough to do the 120' death slide!
Magic Kingdom - the Electrical Parade was very memorable and the kids loved driving
Hollywood Studios - Matt really enjoyed learning to draw Disney characters
Ate a lot of junk food, enjoyed getting away from everything we've been through over the last couple of years, had fun, saw some wonderful things and enjoyed being a normal family!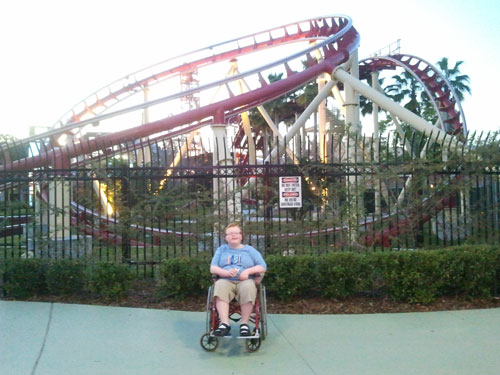 On the families return Dan wrote a beautiful account of his Wish for his tutor, this is attached for you to read below. From a young boy who a few months ago wouldn't pick up a pencil for fear of failing due to having missed so much of his early school days when first diagnosed, it is an amazing piece. Dan should be extremely proud of his work, we think it is great, well done Dan!
Dan's closing words at the end of his account read "I'm really glad my Wish came true".
When You Wish Upon A Star feel honoured to have had the opportunity of granting Dan's Wish and hope we can continue to fulfil many more for other children.