4th February 2013
Aidan's Wish
Just before Christmas Santa made a special journey over to a very brave young man with an extra special present. 2 year old Aidan, who is currently receiving treatment for a brain tumour, Wished for a Mini Cooper in blue!
Aidan had wished for a blue Mini Cooper battery operated car and Santa was delighted to deliver him one!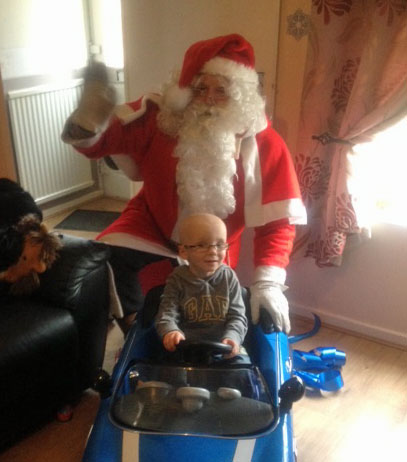 As Santa walked up his drive a very excited Aidan had spotted him from the window and rushed to open the front door to welcome him.
Santa took Aiden to his special delivery van and opened the doors to reveal his car! He was so excited he wanted to get in it straight away!
Santa carried it indoors and immediately Aidan jumped into it and started to drive it round the living room bumping into everything!
Santa left one very happy and smiling little boy.