28th May 2014
Angus' Wish
When You Wish Upon a Star made Angus' dream come true when they arranged the visit to Japan. Angus described it as the "best holiday ever."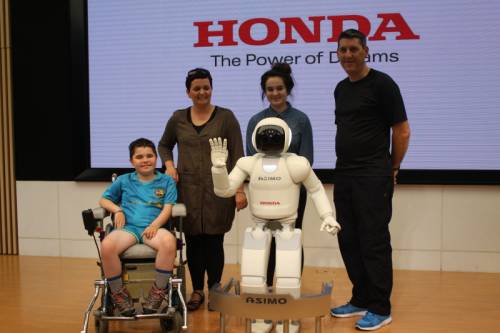 Angus wanted to visit Japan to see where technology and gadgets come from and to meet Asimo the Honda robot. When he visited the Honda Plaza he has a big smile on his face as he got to meet Asimo. When we visited the electronics district in Tokyo we spent nearly 2 hours in one shop (it did have 9 floors!) and Angus only had one word for it "awesome."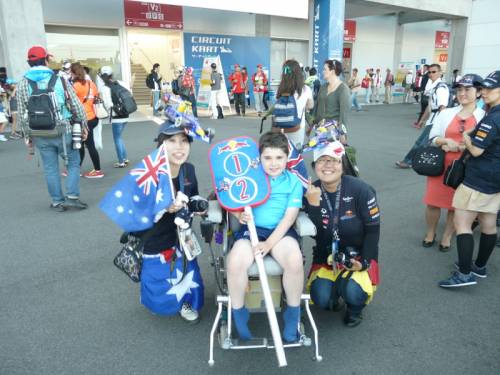 His other wishes for this trip were to travel on a bullet train and see the F1 Grand Prix. As part of the trip we were able to achieve both of these, he loved the futuristic looks of the trains and the first time he saw one go through the station he was amazed by how fast they travel and had a look of shock on his face.
By using our Japan rail passes we could use lots of the trains and got to visit so much during our stay. The Grand Prix at Suzuka was another highlight. The sun shone, the cars were loud and fast and the grin on his face the first time the cars came out on track said it all. Angus took lots of pictures, he has hoped that his favourite Lewis Hamilton would win, but the incredibly helpful and friendly Japanese in their mad outfits made up for this!!!
Angus loved the food especially when he visited a Ninja restaurant in Kyoto. He also made the most of the chance to eat as much sushi as possible. He even found a café in Tokyo where you could stroke, feed and walk goats, his favourite animals. On our last night in Japan we had a try karaoke whilst looking out over Tokyo for the last time.
We often find Angus referring back to his visit to Japan, before we came home he actually asked if we could live in Japan, with a huge memory bank of the great time he had, we all cannot thank the people of Japan enough but most of all When You Wish Upon a Star for making this happen and Angus to feel so special."
"The experience and memories of our trip to Japan in October 2013 will stay with us forever. Angus was diagnosed with Duchenne Muscular Dystrophy aged 6 and the whole family has had some tough times since then.