28th August 2015
Sophie's Wish
In October 2014 we received a heart warming letter requesting a Wish for 12 year old Sophie. The Wish had to cater for Sophie's individual needs and most importantly needed to create special moments with the family. It also must include Sophie feeling the wind on her face as this always makes her smile!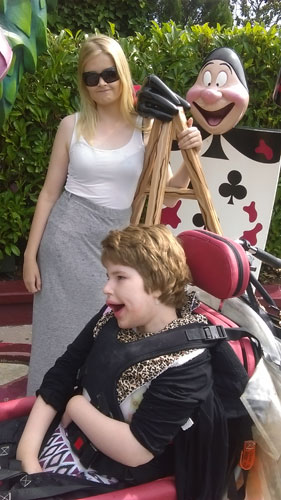 Our Wish fairy spoke to the family and decided there was only one place for princess Sophie to have the most amazing time with her sisters, and that was Euro Disney.
In August 2015 Sophie travelled via Euro Star with her family to stay in the New York Hotel, Disneyland, Paris. They enjoyed their 3 nights stay which included 4 days passes into the park.
Sophie's mum kindly emailed us upon their return saying "We all had a fabulous time in Disneyland Paris. A much needed break for the whole of the family! Once again thank you so much for the lovely holiday, really appreciated."
They also provided us with with some photos of Sophie's special moments. How fantastic to see Sophie so smiley, it seems the Wish Fairy had also worked her magic with the weather and the wind blew softly over Sophie's face.