7th September 2017
Lily's Wish
"Some days call for a little sparkle" - Princess Lily is off to meet Minnie Mouse The Scotland team had such a wonderful time on Friday afternoon when we presented Princess Lily with her Wish.

How else do you get a Princess to the best cake shop in town, by horse & carriage of course! Beautiful Flame from A Carriage for all occasions arrived at the family home to pick up Lily, brothers Josh & Connor, Mum & Nana for a surprise afternoon trip. Lily loves cake so there could only be one amazing place they had to get to.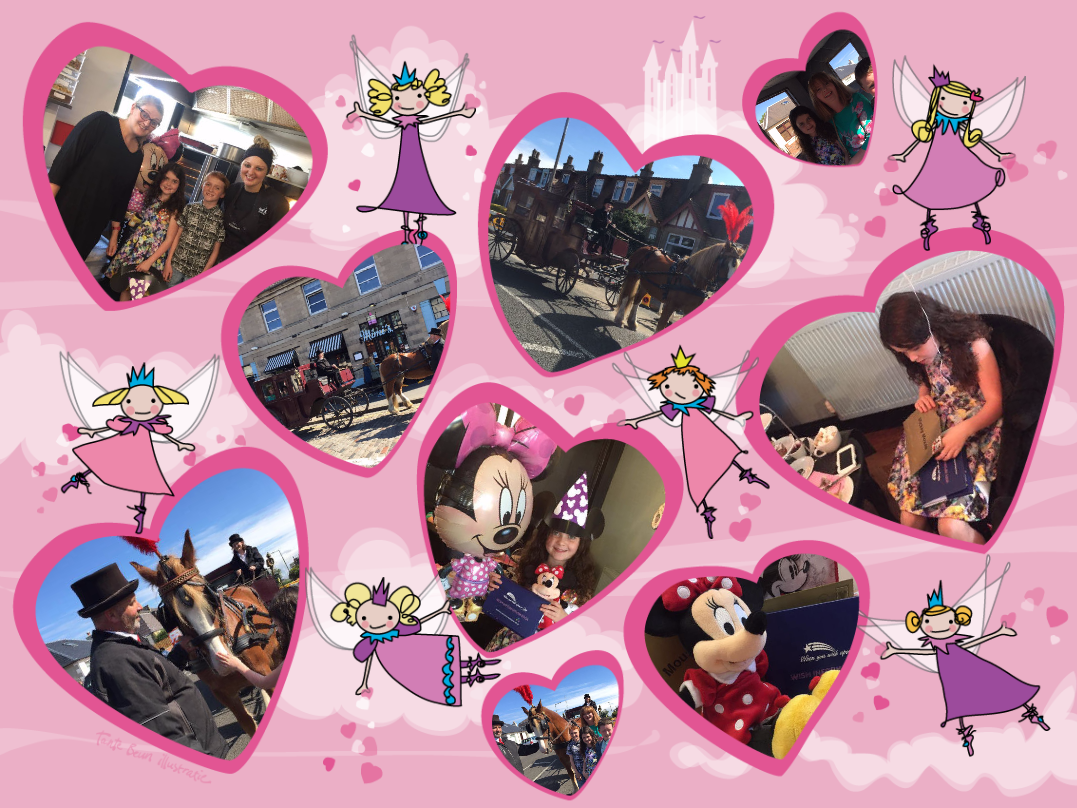 As the family came along the old cobbled streets of Leith in Edinburgh they made a stop outside the award winning Mimi's Bakehouse where they were welcomed by lovely Ashley Harley of Mimi's.
A few photos & selfies were taken with Flame before waving good bye where the family then made their way into the beautiful Mimi's Bakehouse where a stunning afternoon tea, yummy hot chocolate with marshmallows and endless cakes were served.
Ashley along with a very special message all the way from the magical kingdom of Wish Upon A Star Entertainment by Lily's favourite Princess Ariel officially granted Lily's Wish. Lily was presented with her Wish information pack which included her plane tickets to Florida, villa information and her Walt Disney World park tickets to name just a few and not forgetting her Minnie Mouse which was a firm favourite and it didn't leave her side for the afternoon.
Thank you, thank you to everyone who was involved in Fridays Wish Presentation.
Mimi's Bakehouse, A Carriage for all occasions, Wish Upon A Star Entertainment & the Disney Store
you went above and beyond and we can't thank you enough.
We wish Lily and her family a wonderful time away together in Florida and we look forward to hearing all about it once they return.
We are thrilled to have been in a position to grant Lily her Wish and it is only with help from our amazing supporters throughout Scotland that we can continue to grant Wishes.
Thank you so much for your support xxx
#excitedscotlandteam #howmanysleeps #minniemouseknowsbest #princesscarriage #supportersReverything