10th December 2017
Is this the most Christmassy street in the UK?
Forget Blackpool Illuminations - one of the most dazzling Christmas lights displays in the country can be found on a quiet street in Stockport.
Visitors travel from miles around to visit Warwick Drive in Hazel Grove, where nearly every house boasts decorations to rival the seaside town's famous lights.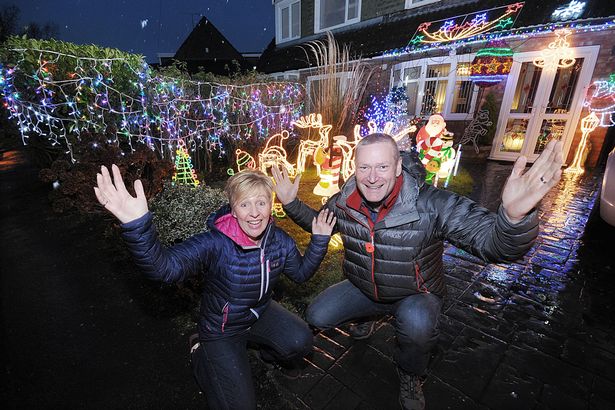 The tradition started 20 years ago when resident Brian McAndrew started decorating his house to delight his grandkids - and it's snowballed from there.
Neighbour Tracey Pledge, who grew up on the street and now has her own house there, said: "He just did it for his grandchildren at the very beginning. They're big Christmas people and big party people.
"We moved in a few doors down in 2000 and joined in and it's just evolved from there.
"Everyone has slowly but surely started to join in. I don't think it was a conscious decision.
"It's quite nice when you drive home from work - it's like Blackpool Illuminations."
Tracey estimates about 80 to 90 per cent of households on the street now join in with the tradition, with ever more extravagant decorations each year.
"It's a huge effort," she said.
"It takes a full day, maybe a day and a half, to put them up and longer to take them down because you have to dry them and put them all away properly.
"Brian's probably takes two to three days.
"We all help each other to put them up, we lend each other our wires and extension leads. There's no keeping up with the Joneses."
Only a handful of households choose not to join in and estate agents have even been known to warn buyers moving there about the tradition.
"The house next door to my mum's is up for sale at the moment and the estate agents actually tell people: 'You know at Christmas you'll have to get some lights'," said Tracey.
"There are a couple of people that don't. If you don't do it, you don't do it and that's fine."
Those who do will have spent thousands on their lights over the years, Tracey estimates - not to mention the electricity bills.
"A lot of people buy them in the sales in January for the next year. We just buy bits each year," she said.
"Some of them are really expensive but they last forever.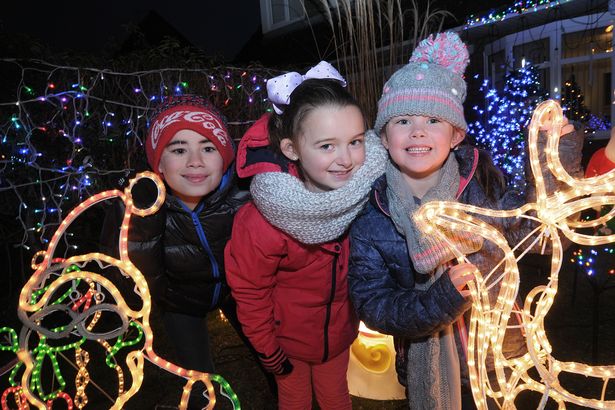 "We worked our electricity bill out last year and it was probably about £300 extra in December.
"But when you see them all coming, little kids having their photos taken next to them, it's really sweet to see their little faces.
"One little girl the other day said to her mum: 'Could we live in this neighbourhood?'"
Word has spread and hundreds, perhaps even thousands, of visitors now come from all over the north west to admire the lights.
"It was only a few years ago we started to notice people coming down to visit the road and heard people in the hairdressers talking about it," said Tracey.
"It's just been word of mouth."
The residents have now set up an official Facebook page, run by Tracey's daughter Emma, for the street, which now hosts visits from Father Christmas one weekend a year.
This year he will be flying in on Saturday, December 16 and Sunday, December 17, from 4pm to 7pm, when the residents will be out on their driveways serving mulled wine, mince pies and sweets to visitors.
Residents have also been collecting for local charities over the last few years, raising £4,255.25 in 2016, and have thanked visitors for their support.
This year they are collecting for the PSP Association, which supports people with the neurological condition Progressive Supranuclear Palsy, including Brian's wife Joan.
They will also raise money for When You Wish Upon a Star, which grants wishes to children with life-threatening and terminal illnesses; Stockport SANDS (Stillbirth and Neonatal Death Society); Ollie's Army, a charity supporting Poynton siblings Ollie and Amelia Carroll, who have Battens Disease.
Tracey, whose mum and brother also live on Warwick Drive, said there was a close-knit community spirit there all year round.
"It's quite a unique little street," she said.
"My uncle came from Australia to visit recently and he couldn't believe how long it took him to walk to the shops - you have to stop and talk to everybody on the way.
"We had a street party for the Jubilee and closed the road, and there's always barbecues in the summer and somebody usually has a New Year's Eve party somewhere."
"It's one of those roads where you can call on anyone and they'll help you."

Visit facebook.com/WarwickDriveChristmasStreet for more information.