10th March 2020
Rooters raise cash for children's charity
Local football team, the Thornton Bantam Rooters have been busy raising funds through a charity football match for When You Wish Upon A Star, who grant magical wishes for children living with life threatening illnesses.
During the game against volunteers, the Rooters raised £1,105.26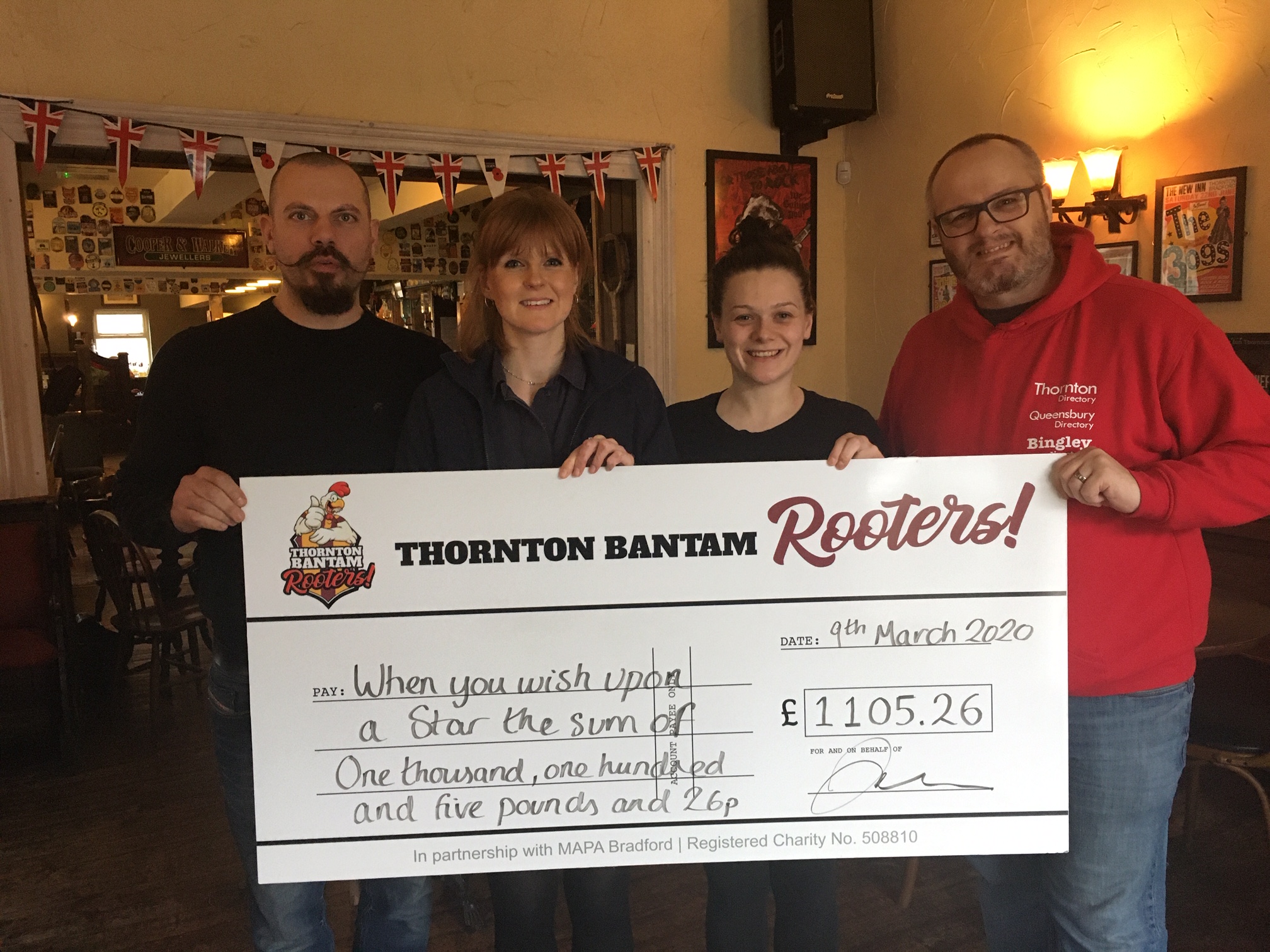 The 'Rooters' are the official Bradford City supporter team, made up of a number of friends and locals who come together in the interest of keeping fit and having fun. The Rooters chose to support When You Wish Upon A Star with their most recent match and took on a team of volunteers linked to the charity from the region.
Helen Rook, Regional Fundraiser said
'We are delighted to have been supported by the Rooters and I don't think either side could have imagined how successful it was going to be. The money raised will be spent locally, with a child from Bradford receiving a wish as a result of the support shown by the local community. I would like to personally thank all of the businesses who got behind the event, with transport, volunteering and prize donations too.'
The donation has come as the charity celebrate their 30th Anniversary year, in which they plan to host a fundraising ball in the region and a special celebration for the Wish Children.
Helen added 'This is a huge year for us as we intend to celebrate our wish granting work over the past 30 years. To date, we have granted almost 18,000 Wishes and Treats and to have begun with such an incredible contribution from a local organisation means we can grant even more magical Wishes.'
Neil Bird, of the Thornton Directory, acts as the Thornton Bantam Rooters marketing liaison and said "Thank you for playing, buying raffle tickets, dancing, donating, giving your time, donating prizes and making a fab day of fun for a great cause. You are all stars. "
The charity are welcoming support from all businesses, organisations and individuals to make their year of celebrations a huge success. If you or your organisation would like to know more about how to get involved,
please contact Helen Rook, Regional Fundraiser on 07918 850931 or email helen.rook@whenyouwish.org.uk