10th March 2020
Kentown Wizard Foundation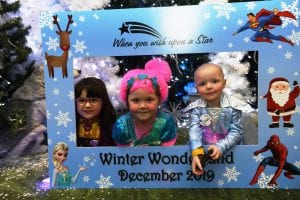 1]

Back in December, the Kentown Wizard Foundation funded a 4 day magical winter wonderland experience, hosted by the amazing team at When You Wish Upon A Star.
35 families from Blackpool & the North West, whose children have life threatening illnesses, were invited to Sherwood Forest, Centre Parcs to experience a weekend full of joy and laughter

Staff, volunteers, patrons and celebrities ensured that each family had a weekend full of magical memories. A visit from Santa, costume characters, dancing and a firework display were but a few of the incredible activities available to the children and their loved ones. The highlight of the trip was a Costume Ball. The children dressed up as princesses and superheroes and were treated to a night of magic, singing, games and lots and lots of laughter.

When You Wish Upon A Star have been dream making for sick children since 1990, fulfilling 17,500 dreams along the way.
Head of Fundraising Diane Hummerston said
"Without the support of the Kentown Wizard Foundation, we would not of been able to give our Wish families such a magical weekend. The families have been able to create lifelong memories in what can be very difficult times for them. We cannot thank Debbie, David and the rest of the Trustees of the Foundation for their most generous gift – they have truly helped in bringing joy into all of our families' lives"