15th June 2023
Krazy Races - the first of its kind in Stockport!
On Sunday 28th May, When You Wish Upon a Star had the pleasure to attend the Totally Stockport Krazy Races, as their 2023 charity partner. We were joined by thousands of spectators from across Stockport and beyond to cheer on some wacky and outrageous soapbox racers, at first of its kind in Stockport! Launching themselves through Stockport in their carefully hand-crafted karts, racers faced chicanes, obstacles and water as they raced along the 350m downhill race track.
The event was fuelled by amateur teams who entertained the crowds and competed to be the best dressed, have the best designed and the fastest soapbox karts. We had six amazing teams racing on behalf of our charity. A huge congratulations and a big thank you to Green Horizon Energy, Landscaping Direct, The Sloth Team, Novanta, Elevated Knowledge and Stockport Council for taking part and supporting us!
Our very own Wish child and fundraiser Austin had the honour of opening the day by riding down the track and waving to the cheering crowds from the Krazy cart. Austin was greeted by cheers and applause from spectators, and he looked so happy and excited. It was a touching moment that reminded us all of why events like this are so important to the charity and our Wish families.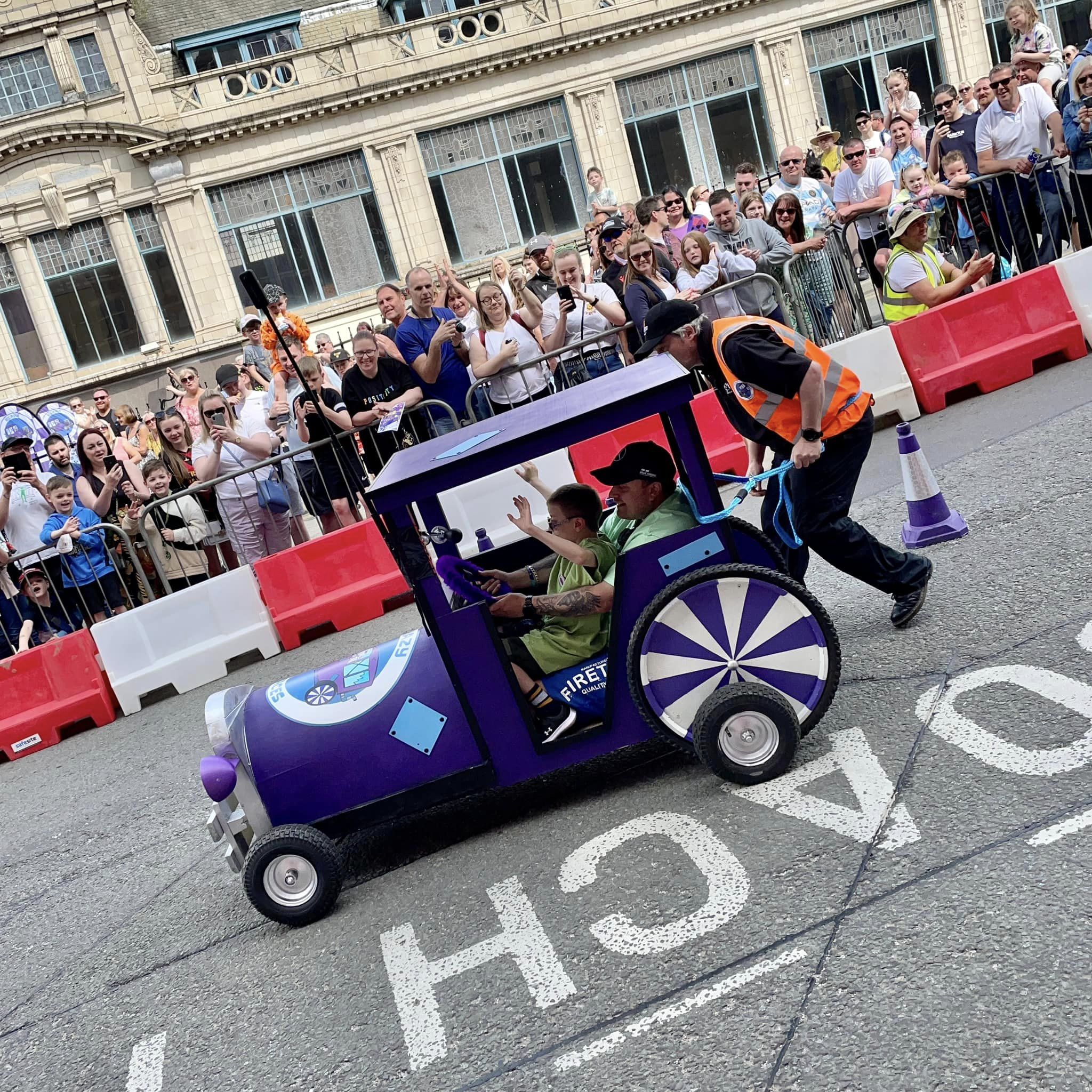 Our dedicated team of volunteers took charge of our Wish area. They did an amazing job of looking after the tombolas, officiating our children's race track and running vintage games such as hook-a-duck. There was a really great atmosphere throughout the day, the sun was shining and Stockport town centre was full of families smiling, having fun and cheering on the teams.
This opportunity enabled us to raise vital funds for the charity, helping us to continue granting more magical Wishes.
Thank you so much to the team at Krazy Races for choosing us as their charity partner, to all our amazing volunteers and to everyone who supported us throughout the day.