13th July 2011
Charlie & Laura's Wish
When two wishes came into the office at the same time, one asking to meet our very own Ambassador Simon Cowell and another wish to meet Cheryl Cole, there was only one place to go and this was the X Factor studios.

Charlie and Laura were picked up by separate chauffeured Limousines' from home and whisked off to the X Factor studios, for one very special day ahead accompanied by family and Wish Fairy Sam.
Both families sat in the studio and watched all the acts that would be performing live the following evening, rehearsing their dance routines and songs in the sound check.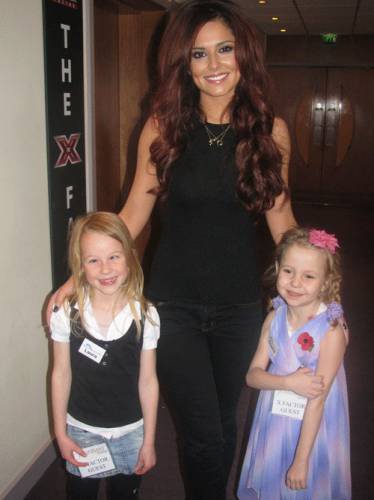 Throughout the day Louis, Cheryl, Dermott and Danni along with all the contestants, casually came and sat alongside little Laura and Charlie, laughing, joking, signing autograph books and taking lots of photographs.
Of course Charlie gave all her best tips to the performers, how they could improve their act and gave her advice where they were all going wrong!!! Haha.. The girls even managed to have lunch with Louis in the canteen.
The highlight of the day as ever, was Simon's arrival and true to form he was just amazing with the girls.. Charlie sang to Simon (Hey Carol) whilst Laura cheekily stuck her tongue out at our Ambassador several times!! Taking it all in good humour as always, Simon happily posed for hugs and pictures.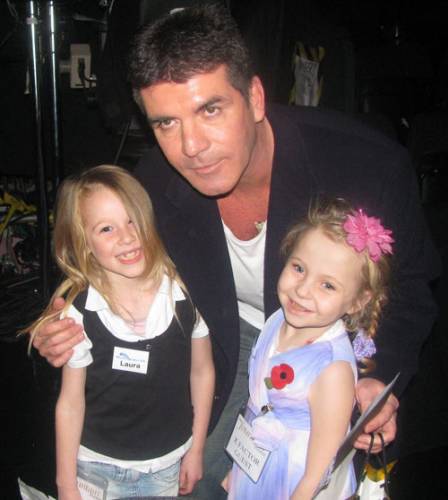 Before they headed off on the long journey back up North, Charlie and Laura got a chance to sit in the judges seats and boy did they feel important!!!.. the finale of the day, was when the girls got a chance to perform themselves on stage, singing into water bottles as pretend microphones and dancing their little hearts out.. (Thankfully all the judges had all gone home at this point...)

Just after 6.00pm, we all left the X Factor studios and headed home with two very excited little Wish girls xxx