15th May 2012
Christopher's Wish
In 2011, we received a very touching letter from a teacher who had wrote in hope that we would be able to grant a wish for a very brave and charming young boy at her school. She explained that Christopher, who is 12 years old and from Bonnyrigg, was recently diagnosed with Lupis. However despite being so poorly he still managed to take the time to independently organise charity events to raise awareness at his school about his condition as well as raising funds.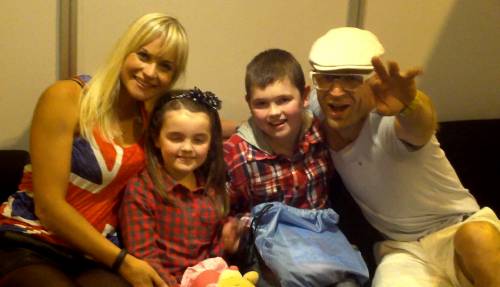 Christopher's Wish was to attend the Gadget Show Live at the NEC in April 2012 and to meet one of the presenters.
With the assistance of The Gadget Show Live we were able to arrange for Christopher and his family to fly from Edinburgh to Nottingham where they were driven to the Gadget Show Live that was to be held at the NEC in Birmingham. At the venue they were treated as VIP's for the day and front row seats were reserved to the Super Theatre Show. This was a live performance with presenters Suzi, Jason, Jon, Ortis and Pollyanna presenting a stunning hour of entertainment with challenges, high octane stunts and lots of audience participation.
After the Super Theatre Show, Christopher and his family were taken backstage to the celebrity Green room. They were greeted by presenters Pollyanna and Jason, who were absolutely wonderful, taking the time to talk to both Christopher and his sister Leah about various gadgets and telling them a few funny stories about their experiences whilst filming the new series of The Gadget Show World Tour. Fabulous goodie bags were given to the children, photos were taken and plenty of time was allowed to sign their programmes.
On leaving the green room Christopher and his family received a further surprise by being warmly greeted from the other Gadget Show presenters Suzi, Jon and Ortis. They also kindly took the time to have a short chat, sign their programmes and pose for photographs.
After their meet and greet Christopher and his family spent the rest of the day looking around at all the various stands of the new upcoming gadgets that are in the market at the moment.
That evening the family were taken to The White House Hotel in Kegworth for an evening meal and a good night's sleep.
The following morning no time was wasted. Christopher is also a huge Warhammer World fan (Warhammer World was inspired by the novels of Michael Moorcock and the Lord of the Rings series written by Tolkien).
We took Christopher and his family to Warhammer World which has its head office and factory based in Nottingham; this includes a Gaming Arena, Citadel Miniatures Hall and the famous Bugmans Bar. Christopher spent a magical couple of hours looking around the different battle ground tables and enjoyed spending his pocket money in the gift shop. The family were then taken sightseeing into Nottingham City Centre before making their way to East Midlands Airport to be waved off for their flight home.
Our special thanks to The Gadget Show, Presenters and The Whitehouse Hotel for making this Wish so special.
We would also like to thank the dedicated supporters who raise funds for When You Wish Upon A Star. This Wish would not have been possible without your support. We look forward to creating more magical memories for the special children and their families.