28th May 2012
Erin's Wish
On the 11th May a very excited family boarded Eurostar to Paris! They arrived at their hotel and the room looked out onto greenery and they could hear birds singing, which made Erin smile as she loves to hear the birds sing.
Erin communicates by facial expressions and below is the families story of their magical weekend in Euro Disney, Paris.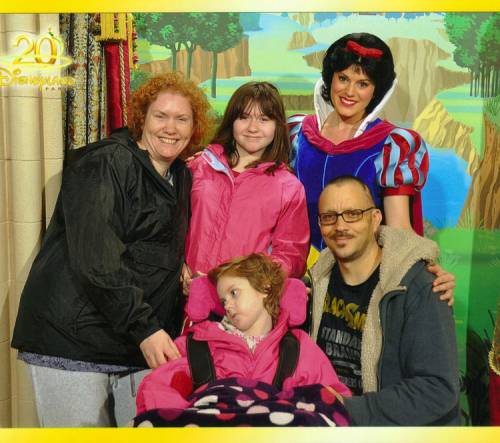 "We absolutely loved the parks. We watched the parades and was able get Erin to the front but because we rushed to the front, I left my poor husband behind and he had the camera so although he videoed the parade he was unable to get a video or photo of Erin's face as he was trapped outside the wheelchair area with no pass, but Erin did like it. We were able to take Erin up to the princess castle to have a photo with Snow White and Pluto. Three of the rides were suitable for Erin, 2 were Erin's favourites. "It's a small world" (which I would recommend for any special needs as it is so sensory stimulating) and "buzz light-year".
We have never been able to take Erin on rides like this before and she absolutely loved them and it was wonderful to see the expressions on her face. It was lovely to have her take part in some different fun things and see her enjoy them so much.
We know Erin thoroughly enjoyed herself because her expressions and mannerisms were very positive over that weekend as she was very smiley and making lots of happy sounds, and the rest of us definitely enjoyed ourselves.
We could never have had this wonderful experience without you so thank you so much. It certainly was a magical long weekend, and one we will never forget. Thank you.
Warmest wishes
Fleur and family, especially the ever beautiful Erin. xx