16th November 2012
Eloise's Wish
Adorable Eloise, who is 9 years old was so excited at the thought of meeting a dolphin. However, no-one ever imagined just how breathtaking and heart warming this experience would be to the family.
Mum wrote in to tell us all about it...
Regarding Eloise's Wish to Swim with Dolphins
Thank you for the amazing opportunity you have given to Eloise and us. We have been back a couple of weeks now and Eloise has settled down after the jet lag! We have had the most fantastic time as a family in Florida. We cannot believe even now, all that you have done for us.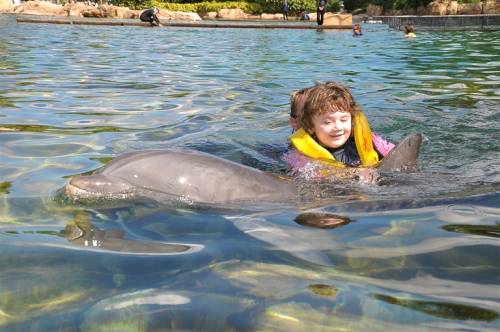 We arrived late on the Sunday night and had a good sleep in your lovely bungalow. Very quiet and serene in that walled community. We felt very safe! On the Monday we went to Disney's Magic Kingdom. Wow! Eloise's face was a picture! She loved the Parade, and even though she was a little tired, couldn't stop smiling. I have to say that everything you set up ran so very smoothly. The people are so helpful over there too – very accommodating to Eloise and us as a whole. We tried to have rest times and it worked really well. We managed to fit it all in amazingly enough. We rested a few mornings in the pool and jacuzzi with Eloise – which she loved! So did Yasmin when we could get her out of her bed! The girls had autograph books and saw Minnie Mouse (a GREAT favourite of Eloise's – Ellie could not take her eyes off Minnie). They also met Scooby Doo and Shaggy, Shrek and Princess Fiona, the Men In Black MIB, the Professor from Back to the Future and many more besides. We all met Mickey Mouse coming out of the back door at Epcot and he made a bee line for Ellie even though he was going on to somewhere else. They make you all feel so very special.
When we went to Discovery Cove on the Wednesday we were all very excited – especially Eloise. Again you had sorted everything out and it all ran so very smoothly. What a gorgeous place to be – so quiet and calm and very relaxing. It felt like a day of rest! We got ourselves changed and sat in the sunshine in the water, walked around the aviaries and stroked a Sloth that was being handled by a staff member. Eloise was so very gentle with it. When it came to seeing the dolphins for us it was 2pm and Ellie was getting tired. However, Ellie was soon revitalised when she saw the dolphins! The water was cold but she did not mind. There was a group of 9 of us and we were in the middle. We had two dolphins visit us in the water, Diego and Yoko. Diego was first and he almost kept stopping to check Ellie out as he swam along the line. He was so good with her and again, Eloise was very gentle and smiling all the time with him. One of the Trainers took Ellie to swim with the dolphins. He was very good with her also. I was not sure how Eloise would be, she does not usually take to new people but she was amazing. He swam with her the whole time and talked to her and helped her hold on to Diego as they swam together. I have attached a picture and it looks like Ellie is swimming alone but Brent is there all the time behind her. Yasmin swam with Diego by herself and it was amazing to see. My girls, with all their disabilities, swimming and happy in the water – well you can imagine. I was crying buckets of joy (filling up the pool) as was Carl. Very emotive experience. All the people in our group were moved to tears and gave Ellie a big applause at the end! It truly was a once in a lifetime experience that we shall never, ever forget. We bought the DVD so that they can watch it over and over again so their memory of that day will never be able to fade (Yasmin forgets things very quickly, has trouble processing information). We have watched it many times already and Eloise's face just lights up and she giggles. We cannot thank you enough for this experience you have given us. Once again, thank you so very much.