6th February 2013
Maazin's Wish
Maazin's dream wish was about to come true, as we were greeted by the lovely bubbly Louise, brandishing a CBBC goody bag full of surprises, before eagerly whisking us off for the start of our tour around the Blue Peter studio.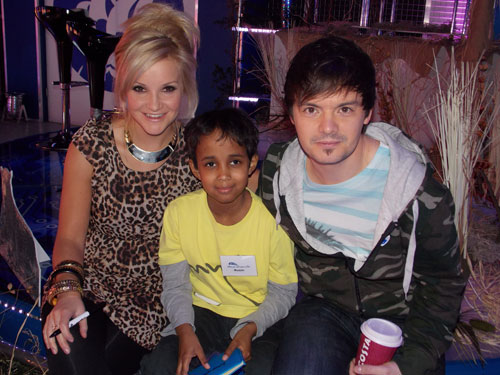 After negotiating a maze of corridors and recording suites, we eventually arrived at our destination, and were soon encountering a fascinating experience behind the scenes and soon realising just how much work, and what really goes into the making of just one Blue Peter episode.
The time now is just after mid-day and the two presenters of the show Helen and Barney and all the production team, have been hard at work since 10.00am rehearsing for their half hour show that will go out live later that afternoon.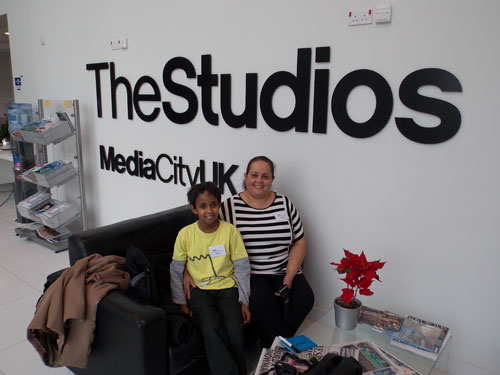 Wasting no time, and heading into the sound room, Maazin was granted special permission, and was let loose to press the banks and rows of buttons that made every different sound you could possibly think of.
With ringing in our ears we then head off to watch what happens in the very much more serious "production room".. Standing very quietly at the back of the room, we watched in amazement at the vast numbers of television screens all flashing away whilst all the editors and producers talk animatedly into headsets pressing different buttons and knobs.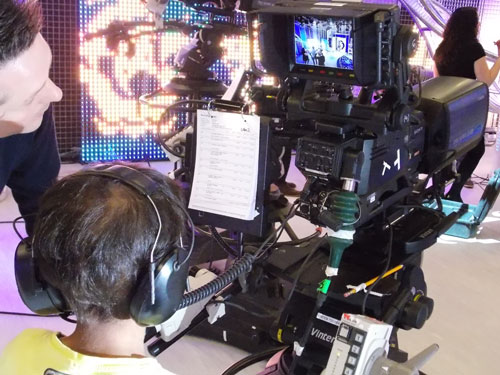 Next stop was the Blue Peter set and en-route we pass the wardrobe department and both Helen and Barney on seeing Maazin rush out to give him a huge happy greeting and welcome him to the studio.. (I think Helen forget she had a head full of rollers in her hair!!) Ha-ha.
Wow the set was amazing and much bigger than we all thought it would be.. Lots of lovely bright blue and white lighting it felt a little like being on the X Factor.. Maazin go to be a cameraman, before watching Barney and Helen have a practise run through their script for their live performance completely scriptless later... We were all very impressed by this indeed.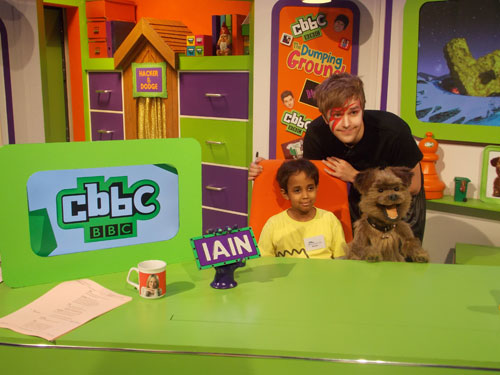 After autographs and sofa time with Helen and Barney, Maazin said his goodbyes, before one more last little surprise. The studio next door was the home of Iain and Hacker the dog from CBBC, so off we popped for another guided tour and learn all the secrets and stories of what really happens inside the broom cupboard!
Before heading off home we have a quick stop in the Blue Peter garden then it's off to Prezzo's for a very much needed Pizza and chocolate fudge cake, whilst Maazin looks through all his pictures and marvels through his CBBC goody bag.
We would like to thank all our friends at BBC for making Maazin's extra special dream wish come true.