6th February 2013
Reece's Wish
Reece and his best friend at school, had just one very special wish in the entire world, for them to go watch their beloved Manchester United playing at Old Trafford for the very first time and watching it 'together'.

On the initial receipt of the letter (which was a surprise nomination from the boys P.E teacher from their school) this "Wish" request seemed relatively straight forward at first, well that was until the planning process was put into action!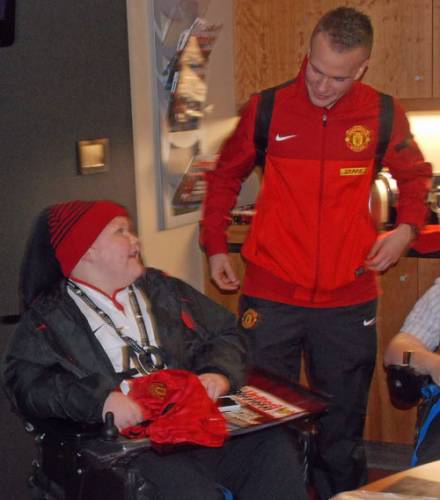 Ideally what, was really required, was a large outside seating area so that both boys could feel a part of the crowd whilst soaking up the atmosphere, joining in with the fans chanting, cheering on their favourite players, whilst singing their little hearts out, and discussing their players team tactics and how the game was going just like we all normally do and just take for granted.
Electric wheelchairs, take up a lot more space than a manual one and therefore much harder to accommodate.. Whichever venue you go to, there are never normally two disability spaces together especially with room for carers too, which unfortunately both boys needed to have. After all contacts had been exhausted and finding out that there was probably not even an executive Suite at Old Trafford big enough to accommodate both the boys together, the boys dream 'WISH' suddenly started looking unreachable.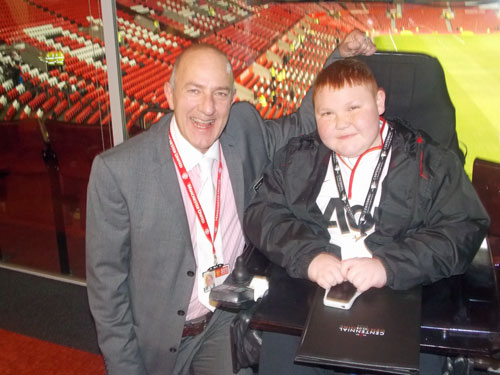 That is until a very uplifting phone call came into the office offering up the solution and answer to all of our prayers. The lovely Ian and Lucy from Imagine If are a truly wonderful organisation that host all sorts of hospitality and fundraising events up and down the country and had heard about our plight and had called to offer us the use of their magnificent Suite for this most difficult wish, they had already worked out a plan for several seats to be removed from the outside terrace area of their Suite which would create enough space to accommodate a disabled platform to be fitted, which would then enable the boys to safely watch the match from the terrace together, enabling them both to really join in and soak up all the atmosphere.
Seeing both the boys excited faces arriving at their very own Suite for the evening, was such a magical and proud moment for everyone involved in making this very special wish happen, and an achievement we never thought would be possible... The boys kicked of the evening with a slap up dinner of posh 'Fish Fingers and Chips' before going out onto the terrace, taking their own special position for the best seats in the house to watch their beloved United.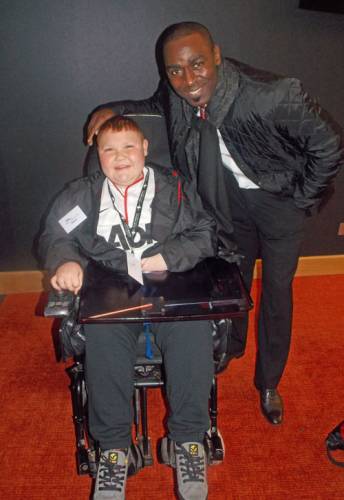 Throughout the evening the boys never stopped smiling and laughing and at times was very moving to watch, especially since Imagine If had a few more treats up there sleeve and had arranged for several players to secretly pop-in throughout the evening to meet both the boys... The very handsome Andy Cole was the first surprise, followed by the legendary Alex Stepney, Paul Crone a Patron of the charity and presenter from Granada TV popped in several times to have a chat with the boys, and just before they thought the night had come to an end in walked Tom Cleverley to sign their shirts and pose for a few photographs and a chat...
Once the boys had come back down to earth, and had eventually calmed down after the unbelievable surprise of Tom walking into the Suite.
It was now very late and sadly time to say their goodbye's and head for home... Just as the boys 'thought it was all over', Ian and Lucy from Imagine If however had one last 'BIG' surprise up their sleeve and escorted the boys along the corridor and into another Suite, and who should be waiting for the boys.. The one and only Robin Van Persie.
The boys really did have the best night of their lives and such a dream come true.. Without the kindness from Imagine If this dream 'Wish' could never have been fulfilled.
Thank you so much Ian and Lucy and in Reece's words "tonight means more than words can ever say".