2nd July 2013
Milly's Wish
On Monday 24 June 2013, after finishing her day at school, Milly was visited by Gemma from "When You Wish Upon A Star" who presented her with a very special wish; A weeks Holiday to Butlins worth £1700 for her and her dad and their long term family friend.
They will be setting off to enjoy their week away and will enjoy a week of fun and relaxation, with their own 3 Bedroom Apartment and half board catering.
Milly also suffers from asthma, epilepsy, a hole in the heart and global developmental delay which makes everyday life for her and her dad Barry that little bit harder. Millie's dad is supported by a very special family friend Paul who visits them every day to see how they are and help with their day to day activities and tasks.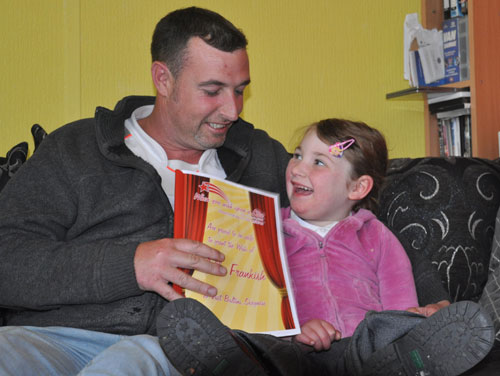 Millie's dad says; Life for us has been difficult and without my friend Paul I don't think we would have coped. He has been amazing. I am so glad that I contacted When You Wish Upon A Star. They have given us something to look forward to and I know Milly is just going to love this holiday. It's the break away that we all need.
When You Wish Upon A Star are a Charity providing very special wishes to children between the ages of 2 and 16 who are terminally ill or suffering from a life threatening illness. The Lincolnshire Branch of the charity have been running in the county for 18 years and have to date provided over 2000 wishes to some very deserving children in the region.
These wishes are varied and far reaching. For some a trip to Disney Florida or Paris to meet their favourite characters, for others it is a chance to get up close to a favourite pop star or sporting hero. Whatever the Wish, wherever possible, When You Wish Upon A Star will aim to make that Wish a reality.