11th February 2016
Nicole's Wish
Nicole finally met her idol, Taylor Swift, who was always a huge inspiration to Nicole, especially through several gruelling years of treatment Nicole had to endure and the long hospital stays.

Taylor's lyrics had a huge impact on Nicole's life and listening to her songs and music is the reason that got Nicole through her most difficult and painful days.
Nicole wrote the most beautiful letter to Taylor several years ago, explaining just how much her music meant to her and how it inspired her and that one day she would love to meet her.
This letter was never replied to until When You Wish Upon a Star re-sent the same letter, several years later, but this time got it into the correct hands.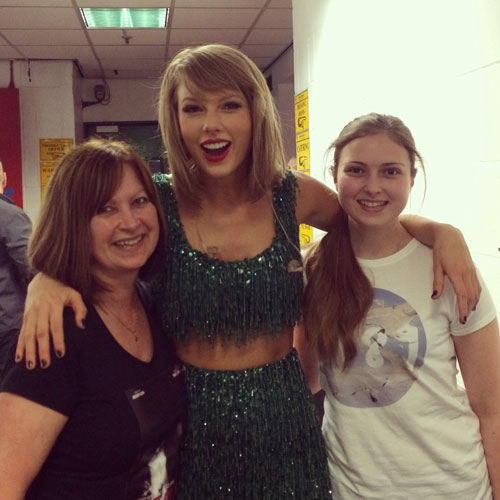 Nicole and her family had been treated to tickets at the MEN Arena by When You Wish Upon a Star, to finally watch her idol live after all these years of being the biggest fan from afar, but what Nicole didn't know, was that a last minute phone call from Taylor's manager to Sam our Wish Fairy, inviting Nicole backstage to meet Taylor was all unfolding.
After many frantic phone calls trying to locate the family, the invite was finally delivered and a very excited but very nervous Nicole and family were escorted backstage to where the forever magical memory was created and the dream 'Wish' encounter with Taylor will stay with Nicole for a lifetime...